Science leaders issue 'wake-up call' to next government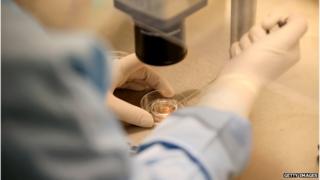 Government spending on research and innovation needs to be doubled to stop Britain falling behind other countries, say science leaders.
And ministers need to give clear messages on immigration to encourage science talent from overseas, according to the four National Academies.
Public investment must rise from 0.5% to 1% of GDP to drive economic growth, say the research bodies.
British research spending currently lags behind many other OECD countries.
The four National Academies - the Royal Society, British Academy, Royal Academy of Engineering, and The Academy of Medical Sciences - said investment was needed to stop the UK's world-leading research base being eroded.
In a report setting out what the next Government needs to do to build a strong research and innovation base, the four UK National Academies called for:
A target for investment in R&D and innovation of 3% of GDP for the UK as a whole - 1% from the government and 2% from industry and charities - in line with the top 10 OECD research investors. The government currently invests 0.5% of GDP; with 1.23% from the private sector.
Clear messages and policies on immigration to minimise unnecessary barriers to talented students and researchers. "Clear messages and policies are crucially needed to counter perceptions that recent changes to immigration policy mean the UK is closed for business," said the report, Building a Stronger Future.
Presenting the report to journalists in London, the National Academies described it as a "wake-up call" to the next government.
Lord Stern of Brentford, President of the British Academy, said research and development drove innovation, which in turn drove economic growth.
He said as the political parties approached the next election, they needed to take the next step towards staying competitive in scientific research to stop the UK falling behind.
"If those investments are not made we risk slipping further behind, damaging our growth rate, damaging our ability to keep populations healthy, damaging our ability to attract students from overseas and thus detracting from our ability to have long-term collaborations with countries around the world in the future," he told BBC News.
Prof Dame Ann Dowling, President of the Royal Academy of Engineering, said with international research networks growing in strength, the UK needed to have the right policies in place to encourage immigration that would benefit the nation.
She said clear messages were needed across government.
Prof Alex Halliday of the Royal Society said the UK was getting to the point where many researchers would go abroad to get research funding, to countries such as China.
Cuts to research and innovation in the 1980s drove many scientists to the US.
Follow Helen on Twitter.