South Georgia rat eradication mission sets sail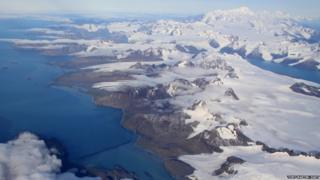 A team sets out on Saturday on the final leg of a mission to eradicate rats from the island of South Georgia, with the aim of "reclaiming the island for its seabirds".
Their ship, loaded with three helicopters and almost 100 tonnes of poisoned rat bait, sets sail from the Falkland Islands.
The project has been under way for more than five years. This is the last of three bait-spreading stages.
It is led by the South Georgia Heritage Trust.
South Georgia is a UK overseas territory at the southern end of the South Atlantic. It will take the team three to four days of sailing to reach the island, and - weather permitting - they will start spreading bait around 15 February.
Project leader Professor Tony Martin from the University of Dundee described South Georgia as a "magical piece of UK territory".
"It's home to to a great wealth of wildlife that exploits the hugely productive seas," he explained.
"[But] man came along some 200 years ago and messed it up by bringing rats and mice."
The native wildlife includes vast seal and king penguin colonies, which feed from the cold, rich seas.
King penguins are too large to be attacked by rats, but many seabirds have suffered badly since the invasion.
Species including the wandering albatross, which has the largest wing span of any bird, have their ground nests raided.
Prof Martin said that the diminutive Wilson's storm petrel had been almost totally wiped out. "These birds only live on off-shore islands that are acting as lifeboats," he said.
"Many seabirds have no defence against marauding rats that eat their chicks and eggs."
Race against time
The team estimates that rats have wiped out more than 90% of the seabirds on South Georgia
But the vast glaciers that segment the landscape, which the rats cannot cross, have allowed the team to carry out a three-phase extermination project.
The first part was completed in 2011, and involved rat bait being spread throughout the central north coast - an area of 120 square kilometres.
Each bait pellet is a lethal dose for a rat. Prof Martin said that, unfortunately, the bait also killed some seabirds. But the team has carefully worked out that those losses are sustainable. While the seabird population "bounces back", Prof Martin said, the rats do not.
Phase 2 was even more ambitious - the team flew their bait-distributing helicopters back and forth across the whole of the north-west of the island - baiting an area of 520 square kilometres.
"There were several large whaling stations [in this area] that were teeming with rats," explained Prof Martin. "The team had to ensure that bait was in every nook and cranny."
This third phase will tackle a remaining 360 square kilometres in the south of the island, and the team "hopes and expects" that this will be the final rat-killing dose.
But, Prof Martin said, it may take a decade or more to be completely confident that no rats remain on South Georgia, simply because it is "very difficult to prove a negative".
He told BBC News that there is some evidence of species recovery as a result of the 2011 and 2013 baiting.
"The pipit is our equivalent of a canary in a coal mine, and we are starting to hear their song again.
"Our departure has also coincided with the discovery of a nest of five pipit chicks in an area that was overrun with rats before baiting two years ago. These are good signs that the rats have gone from those localities."