Testing 'more effective' than badger cull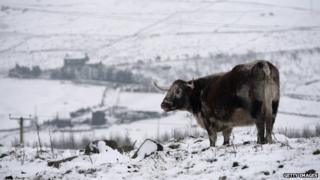 Stepping up cattle testing would be far more effective in controlling bovine TB than shooting badgers, according to computer modelling.
In a region the size of a typical county, culling badgers would save 12 cows from TB, but more frequent testing would save 193, research suggests.
Factors such as bigger herds and keeping cattle inside for winter could explain the rise in TB in recent decades, say UK scientists.
The NFU said the study did not reflect the experience of most farmers.
Badgers are being culled in England as a policy to control the spread of bovine TB.
Wales has focussed on cattle measures, while Scotland is free of the disease.
The first large-scale computer modelling of TB in cattle and badgers suggests that badger culling, cattle testing and cattle movement controls all play a role in controlling the spread of bovine TB, but cattle measures have the biggest effect.
"Of the available bovine tuberculosis control strategies we believe that how frequently cattle are tested and whether or not farms utilise winter housing have the most significant effect on the number of infected cattle," said Matthew Evans, Professor of Ecology at Queen Mary University of London.
"Our modelling provides compelling evidence, for those charged with controlling bovine TB, that investment in increasing the frequency of cattle testing is a far more effective strategy than badger culling."
Farming measures
The research, published in Stochastic Environmental Research and Risk Assessment, found that housing cattle in large sheds over winter could potentially double the number of infected animals, by creating conditions where TB can spread.
In a region containing about 1.5m cows of which 3,000 to 15,000 might have TB, badger culling could account for a reduction of 12 in the number of infected cattle, according to the modelling. Reducing the testing interval by one month could reduce the number of those infected by 193.
The National Farmers Union (NFU) said this was a computer generated model, which was entirely dependent on the data used.
"Its conclusions fly in the face of the experiences of most farmers who say that the biggest risk to their cattle isn't being housed in winter but when they are turned out into the fields in the spring," said a spokesperson.
"Cattle in high risk TB areas are tested at least annually and herds placed under restriction have to pass two consecutive TB tests 60 days apart. Testing any more frequently than that would simply not be practical."
A spokesperson for the Department of Environment, Food and Rural Affairs added: "It's clear that there is no single measure that will on its own achieve control of TB.
"That is why we are pursuing a comprehensive strategy to tackle bovine TB, which includes regular cattle testing, tighter cattle movement controls, vaccinations and culling in areas where the disease is widespread. "
Dominic Dyer, of the Badger Trust and Care for the Wild, said: "The role badgers play in spreading this disease has been massively exaggerated, and the impact of culling them has been completely misunderstood."