Space station crew moved after gas leak fears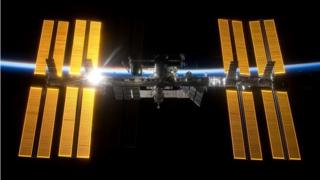 Crew members were evacuated from a US segment of the International Space Station after an ammonia leak was suspected.
But Nasa officials now say a computer problem probably created the false impression of leaking coolant.
The Russian space agency emphasised that the crew members had not been in any danger.
It said that mission control experts in Russia and the US had quickly co-operated to ensure the crew's safety.
As alarms rang out, the six crew members on the outpost put on breathing equipment and moved into the Russian segment after the alert at around 0900 GMT, closing the hatch to the US side behind them.
At the same time, flight controllers at Nasa's Johnson Space Center in Houston turned off non-essential equipment.
Within minutes, mission control gave an all-clear, but sent the astronauts scurrying back to the Russian side again when there was more evidence of a possible leak.
"Hey everybody, thanks for your concern," Italian astronaut Samantha Cristoforetti said in a tweet. "We're all safe and doing well in the Russian segment."
The highly toxic liquid ammonia, flowing outside the space station, is used to cool electronics. Flight controllers originally feared it had entered the water system running inside the station. Now, it's believed that a failed card in a computer-relay box set off the alarm.
"We saw an increase in water loop pressure, then later saw a cabin-pressure increase that could be indicative of an ammonia leak in the worst case scenario, so we protected for the worst case scenario and isolated the crew in the Russian segment of the space station," said Nasa spokesman Bob Jacobs.
Suspected ammonia leaks on the outside of the space station occurred in 2013 and 2009.
The outpost is manned by Nasa astronauts Barry Wilmore and Terry Virts, cosmonauts Elena Serova, Alexander Samoukutyaev and Anton Shkaplerov and European Space Agency astronaut Samantha Cristoforetti.
The Expedition 42 crew had been awake for about two hours before the alarm sounded, and was at work unloading the SpaceX Dragon cargo carrier which arrived days ago with more than 2.5 tonnes of supplies and science experiments.