Farmland birds show rapid decline
By Claire Marshall
BBC environment correspondent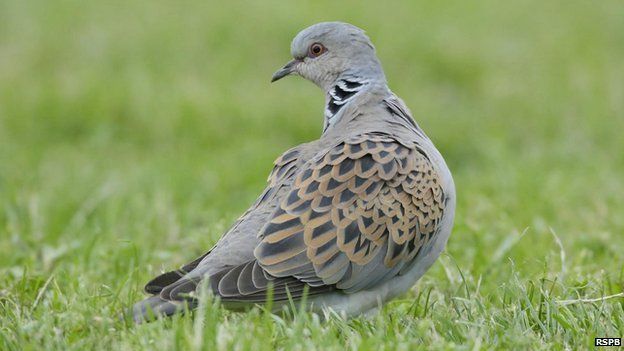 Farmland birds are at their lowest levels since records began, according to government figures.
Numbers of birds such as grey partridge, turtle dove and the starling are down more than 85% since 1970s.
But there has been an increase in some other bird species, including seabirds.
The figures come from an assessment of wild bird populations in England, which has been compiled by the Department for Environment and covers 118 different bird species.
It includes data on 19 species reliant on the farmed countryside.
Over the last 40 years, indicators used in the report show a decline in farmland birds of 56%, with turtle doves declining the most rapidly - down 96% since 1970.
Other species under pressure include skylarks - down 62% since 1970 - and lapwings which are down by 50%.
Much of this decline is blamed on the rapid change in farmland management in the late 1970s and early 1990s.
Modern intensive farming methods means that fields have become much bigger, and more chemicals are used. With a significant loss of hedgerows, birds have fewer places to nest.
The increased use of insecticides means there is less for them to eat. A switch from spring to autumn-sown crops is thought to have had an impact on several species - crops are too high in spring for certain birds to nest.
But some species are doing well. Wood pigeon numbers are up by 150% since 1970, and jackdaw numbers have increased by 130%.
Tracy Adams is an independent farmland bird adviser. She said: "It's a very complex picture. Changes in farming have been driven by government policy since the war.
"Lots of grassland was ploughed up and a lot of money was put in to developing artificial fertilizers and sprays. This has led to a reduction in insects.
"But things are definitely improving, and lots of farmers are doing a lot to increase the amount of habitat for the birds to breed and find enough food to survive."
In addition to farming methods, bad weather can also affect bird numbers, as can disease. The growing UK population and the increasing need to use land for house building also means that there is less farmland for them to inhabit.
"Birds that migrate, such as the cuckoo and turtle dove, are suffering from increased amounts of trapping for food consumption," said Tracy Adams.
"They are being shot as they fly here from Africa, and their wintering grounds are increased by the intensification of farming there."
The Royal Society for the Protection of Birds (RSPB) is urging the government to "make the most of the budget for wildlife-friendly farming".
The UK government has a commitment to reverse the long-term decline in farmland bird numbers.
However, many farmers in England are becoming frustrated with the frequent changes to government wildlife conservation policy. They believe a lack of coherence makes it difficult to come up with an effective protection strategy.
Defra will soon be outlining a New Environmental Land Management Scheme (Nelms) which will replace the current model of environmental stewardship.
Reforms to the Common Agricultural Policy also mean that from the 1st January 2015, in order for farmers to be eligible for a basic subsidy, they will have to leave a percentage of arable land in an "environmental focus area".
Many conservation and farming groups are questioning whether these changes will do much to improve the protection of the environment.