Public transport holds key for clean cities, says study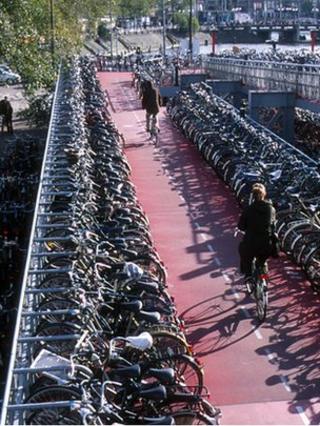 Effective urban transit systems can encourage people out of their cars and provide a cost-effective way to tackle climate change, a report has suggested.
It calculated that emissions from urban transportation could be cut by more than half by 2050 and economies save in excess of US $100 trillion.
The authors added it would also reduce annual premature deaths by 1.4 million.
The report is being published at a UN Habitat III meeting ahead of Ban Ki-Moon's climate summit next week.
The findings were published in a study by researchers from the University of California, Davis, and the Institute for Transportation and Development Policy (ITDP).
Co-author Michael Replogle, ITDP's managing director, said one of the most affordable but often overlooked ways to tackle emissions from human activity was to give people better access to cleaner options of getting from A to B in urban areas.
"Transportation, driven by rapid growth in car use, has been the fastest growing source of CO2 in the world," he said.
"While every part of the global economy needs to become greener, cleaning up the traffic jams in the world's cities offers the least pain and the most gain."
2050 vision
The report offers a vision of how this might be achieved in it's "high shift scenario", in which it envisages a far greater proportion of urban passenger travel via "clean public transport" and non-motorised means, such as cycling and walking.
It also includes a decrease in the rates of road construction, parking garages and other means that the authors consider to encourage car ownership.
The report also states that, without changes in policies and investments, rapid urbanisation will result in emissions from urban transportation almost doubling from 2010 levels by 2050.
"The traffic congestion we see today will become much greater and will result in many more hours being stuck in traffic," Mr Replogle said, adding that congestion would also have a detrimental impact on nations' economic activity, as people would be late getting to work or meetings.
"People will have to spend much more on transport that will serve them much less well."
He told BBC News that there were signs that policymakers and city planners were embracing a "high shift" vision of the future.
"For example, in cities... that have reallocated street space to build modern world-class bus rapid transit (systems)... have basically got a subway level of service on the surface for a fraction of the cost and a lot better places to walk and cycle, which has change the way people travel," he explained.
"Now, middle-class people are now increasingly taking public transport or using the public bikes instead of taking a car. Lower class people who cannot afford cars have better mobility. Everyone benefits from not being stuck in traffic for hours."
Mr Replogle said one of the main barriers hampering the transition towards more effective public transit systems was inertia among political leaders and decision makers.
There are literally trillions of US dollars of investment capital waiting for good opportunities to invest in public transport," he suggested.
"What's needed is for governments to work with development banks and other institutions to help give a green light to the kind of projects that can reallocate street space to favour public transportation, bicycles and walking.
He observed: "Unlike energy strategies that require investment in more costly technologies, this is a set of investments that simply require investing in better public transportation and making streets safe to walk and bike."