Sheep rustling and tool theft boost rural crime figures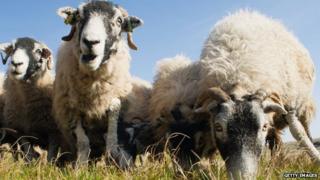 Rural crime is rising, with a spate of sheep rustling and an increase in the theft of farming tools driving up the figures.
According to the latest data from insurer NFU Mutual, the cost of crime to the UK's rural economy reached £44.5m in 2013.
This is up 5.2% on 2012 figures, reversing the fall of the previous year.
And 2013 was also the worst year on record for livestock theft.
NFU Mutual says it insures three quarters of farmers in the UK.
It compiles an annual rural crime report based on claims data and on a survey of the company's 300 local offices.
This year's report says that a wave of sheep and cattle rustling in Northern Ireland and northern parts of England drove livestock theft costs costs up by 25%.
Much larger numbers of sheep were being taken in each raid: up to 150 sheep at a time, rather than just a dozen. The fear is that they enter the food chain, making it impossible to track those responsible.
Expensive machines
Thieves also targeted high-value agricultural equipment, the report says.
While the number of vehicles stolen actually fell, the value of insurance claims rose. This is because farm machinery is becoming much more high-tech and expensive to buy, the company said.
"There is no doubt that both opportunist criminals and members of international criminals are targeting farms," said Tim Price, rural affairs specialist with NFU Mutual.
"While the first group will often move on to an easier target if they see a farm that has even basic security in place, the latter are professionally organised with a specific target."
Many stolen top-of-the-range vehicles are smuggled out of the country, ending up in eastern Europe, the company said.
The county worst affected by this type of crime was Cambridgeshire, where claims totalled £2.7m.
A new trend is also emerging of criminals seeking out older models that are not fitted with immobilisers and alarms. Much of this stolen property is then sold to developing nations.
The most common items targeted over the past 12 months were tools, followed by all-terrain vehicles and quad bikes, and then oil and diesel.
Pilfering pesticides
Criminals have also started focusing on pesticides from farm chemical stores. In one reported case, sprays worth £20,000 were stolen in a single raid.
The advice is to take more precautions. But this can sometimes have negative consequences.
"The problem is that the more secure you make it, the more obvious it is that you've got something to hide," Stephen Hole, a farmer in Somerset, told BBC News.
Recently, he had plastic sheeting valued at several thousand pounds, and which is used to wrap bales, stolen.
"As long as the insurance keep paying out, we don't have to worry about it too much. £100, £200 excess? That's nothing."
Liz Scott, who runs a nearby farm, had £2,000 of the same wrapping stolen.
She is now planning to install extra locks and a security camera.
"It's horrible. It feels like you're going to be like Fort Knox."
Follow Claire on Twitter @BBCMarshall