Greg Clark promises continuity on science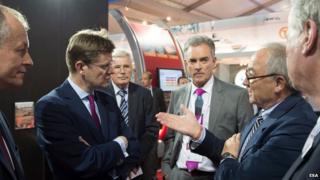 New science minister Greg Clark says his brief is to continue the "excellent work" of predecessor David Willetts.
"I've got big boots to fill," he told a group of space industrialists on his first full day in the job.
"My conversation with the PM underlines absolutely our determination that there should be long-term continuity and confidence in policy," he added.
"There's a big recognition that the future prosperity of the country depends on science and innovation."
Mr Clark takes over the duties as Minister for Universities and Science with 10 months to the next election.
He intends to spend his early weeks in the post "on tour", getting to know people in the science community.
Mr Clark is an economist by background, and his appointment on Tuesday initially caused some kerfuffle when critics pointed to his support in 2007 for an early day motion on homeopathy - an action he says was motivated by concern over loss of local NHS services, not a backing for homeopathy.
Asked if not being a scientist was an issue in his new job, he told BBC News: "I've got a PhD; I'm used to the disciplines of research.
"You can't be a PhD without being an empiricist, and so I think facts and the rigorous testing of hypotheses has always been how I see the world."
Mr Clark was addressing executives from major foreign space companies that have decided to increase their investment in the UK. The companies have all been attending this week's Farnborough International Airshow - along with Mr Clark.
Lockheed Martin, Rockwell Collins, ComDev, Aerojet Rocketdyne, and Thales Alenia Space (TAS) say that the country's space growth strategy has persuaded them that they need to expand their activities in Britain.
This strategy, begun under the last labour government and carried forward by Mr Willetts and the collation, seeks to capture 10% of the global market, which could be worth some £400bn by 2030.
Already, the UK sector is worth some £11.3bn, and is growing by over 7% a year.
Lockheed Martin is setting up a space technology office in Harwell, Oxfordshire. Rockwell Collins is opening a new £34m R&D centre in Reading, Berkshire.
TAS, a Franco-Italian concern, now has a foothold in the UK after purchasing the West Country electronics firm SEA. It also plans to expand its operations and will be working with Aerojet Rocketdyne in Belfast to produce electric engines for satellites.
"The growth agenda for UK space is to bring back some of the propulsion capability that has been lost over the years," said Rocketdyne's Warren Yasuhara.
"Propulsion used to be one of the fortes of the UK, and we're trying to restore that."
ComDev is a Canadian company working out of Aylesbury, Buckinghamshire. It plans to make an announcement shortly on new investments.
Addressing the new minister, the firm's Rob Spurrett said: "Great work has been done. It's not party political - it's gone right across the board. And it is borne out by the statistics. But, please, it's now important that we maintain the momentum and then build on it."