Public butterfly count aims to check countryside health
By Victoria Gill
Science reporter, BBC News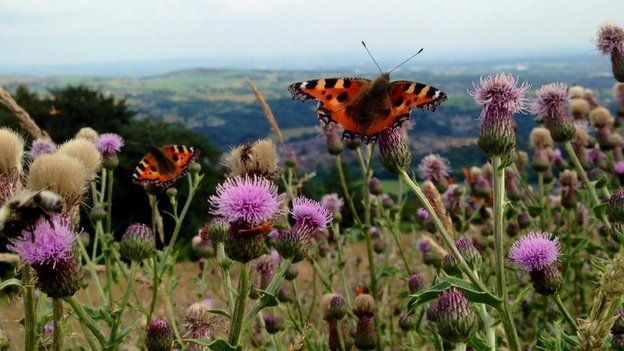 The charity Butterfly Conservation is calling on the public to help survey the state of Britain's countryside by counting our most colourful insects.
For two weeks from 19 July, the charity is asking people to spend 15 minutes "in a sunny spot" and note how many of 21 common species they spot.
Butterfly Conservation said that the insects were the most visible indicator of whether the countryside was healthy.
"Butterfly numbers go up and down with the weather, so it's important to keep this survey running in the long term," said Butterfly Conservation's surveys manager Richard Fox.
"[But] we also want people to engage with the natural world. Everyone should know the names of a small tortoiseshell, a comma and a red admiral.
"It's part of our natural heritage - like the sparrows and the oak trees - and the idea that a generation of children is growing up without being able to identify a single tree, bird or butterfly is really sad."
The conservation charity will be looking at this year's survey results to see if the boost in butterfly numbers that followed the fine summer weather of 2013 has continued.
But the wider national picture for butterflies, said Mr Fox, was "bleak".
"They have declined over the last 40-50 years, largely because of human management or mismanagement of the landscape.
"So it is a question of tackling that - restoring landscapes, particularly scarce landscapes that our rarer species need.
"But also, we ought to be thinking about the common species as well, so it's about how can we make space for butterflies, in our gardens, urban parks, in our farmed countryside."
The widespread loss of "old-fashioned" habitats such as heathland and meadows appears to have driven a decline in many butterfly species.
Some of Britain's rarest species, including the heath fritillary and large blue have even been physically reintroduced to landscapes from which they have disappeared.
Most recently, the National Trust worked with Butterfly Conservation to bring rare silver-studded blue butterflies back to a heathland in the South Downs that had been systematically restored over 15 years.
For more than 25 years across the UK, agri-environment schemes have existed to provide incentives for farmers and landowners to help protect and manage the most valuable rural habitats.
This long-term count could eventually provide evidence about whether these schemes are having the intended effect.
"Butterfly populations can only exist in Britain if the right habitats are there," said Mr Fox. "It doesn't matter how nice the weather is - if we don't have the habitats, the butterflies won't be there."
Related Internet Links
The BBC is not responsible for the content of external sites.