Upset at UN climate talks as ministers go missing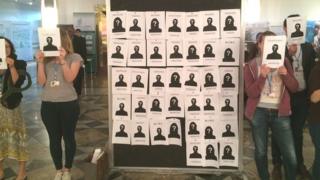 Negotiators and campaigners have reacted angrily to the failure of many environment ministers to attend UN talks in Bonn.
They say governments gave an undertaking last year to come here and update plans to cut emissions.
But so far, around 50 ministers have turned up, with representatives from the UK, France and Brazil notably absent.
Over 130 turned up in Warsaw for the last major talks session.
"Obviously as negotiators we are disappointed that ministers haven't turned up," said Ambassador Ronny Jumeau from the Seychelles.
Normally ministers only attend the annual Conference of the Parties (COP) and their officials attend the other negotiating sessions.
But campaigners here say an undertaking was given at the COP in Doha in 2012 that ministers would meet here in Bonn and review their commitments to the Kyoto Protocol.
Over two days of talks they are also due to assess where they stand, just 18 months from an absolute deadline to achieve a new climate treaty.
"They agreed last year in Warsaw and they have now broken that," said Mohammed Adow from Christian Aid.
"It undermines their commitment to craft a global deal when they don't show up, it sends a distressing signal."
Global deal
Activists staged a small demonstration in the conference centre to highlight the lack of ministers in attendance.
According to Ambassador Jumeau, many of those who did come had no new commitments on emissions or climate finance to show in their presentations.
"I think what we saw on the screens and the lack of ministers goes together. They didn't have anything to put up there or they were ashamed to do it."
Other observers speculated that countries were keeping back announcements for the special conference being called by UN Secretary General Ban Ki-Moon in New York in September.
Ministers from some of the most significant economies like Brazil, India and South Africa didn't travel. Neither did those from the US, UK or France.
British officials said that their understanding was that attendance at the June UN meeting was for negotiators and not ministers.
"The UK is represented at senior official levels at Bonn. It is a mid-year meeting paving the way for the Conference of the Parties in Lima in December and ministers do not usually attend the Bonn meetings," according to a spokesman for the Department of Energy & Climate Change.
"The Secretary of State and ministers are fully behind reaching a global deal in Paris and are talking to many people behind the scenes and are due to attend further international engagements later this year."