Green opposition to coalition final-year plans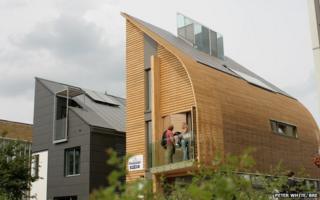 Environmentalists are opposing the government's plans to boost roads, housing and fracking - all announced as part of the Infrastructure Bill.
The government says the changes are needed to promote economic growth and clear obstacles to new development.
The plans include: making it easier to frack under people's homes; speeding planning applications; and diluting planned house-building standards.
The fracking initiative provoked Greenpeace to set up a mock shale gas site outside the Prime Minister's country house.
Its director John Sauven said: "The Government is making a mockery of public participation by announcing legislation to 'open up access to shale gas'… just days ago ministers launched a consultation on whether or not to strip away householders' rights to say no to companies fracking under their homes."
Ministers intend to change the law on trespass to allow fracking pipes to be run under houses without asking for householders' permission. Current law allows firms to mine coal under homes without the householder's permission, but not lay pipes - and ministers argue this is anomalous.
The trespass issue itself may not be environmentally significant, but it does provide focus for opposition to fracking.
Changes to house-building rules may have more environmental significance. Ministers fear that rules imposed on developers are stunting home-building. The government has already lowered Labour's Zero Carbon homes standard, which demanded that new homes should be ultra-efficient and generate much of their own power.
Now the policy will be weakened again because house-builders on small sites will be exempt from the standards expected of large house-builders.
Ministers have not defined what constitutes a small site, but experts warn that it could lead to up to 40% of new homes in the UK being built to standards which may be greatly improved on previous years, but slip behind the best in Europe.
Paul King, chief executive of the UK Green Building Council, said small developments should not be exempt from the higher standards: "Zero carbon homes save a fortune for households in energy costs and are better for the environment," he said.
Back in 2006, the government envisaged that all new homes would be as efficient as the Lighthouse at the Building Research Establishment (pictured above), which saves carbon emissions and is said to have power bills of £40 a year.
The bill will also make it easier for the government to sell off unused public land for development, enable the construction of new garden cities and give small house-builders more support.
A spokesman for the Department for Communities and Local Government said: "Everyone needs the security and stability of a decent, affordable home, and more people who aspire to own their own home should have the opportunity to do so.
"That's why the Government, through its long-term economic plan, is getting Britain building again."
The bill also includes new species control orders for getting rid of invasive non-native species, and a mandatory 5p charge in England for plastic bags - following the successful launch of the idea in Wales which saw a 76% fall in usage in a year after its introduction in 2011.
Small and medium-sized shops will be exempted, along with biodegradable bags.
The Break the Bag Habit Campaign opposed the exclusions: "The result will be a scheme that is different to the ones in Wales, Scotland and Northern Ireland - confusing for both retailers and consumers," a spokesman said.
Follow Roger on Twitter.