Your photos of 'Blood moon' eclipse in Americas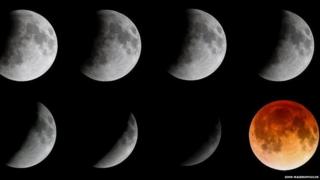 People in the Americas have been watching a rare celestial show as the Earth's shadow fell across the Moon.
The Moon began changing colour from orange to blood red in a total lunar eclipse, which unfolded over three hours from 06:58 BST on Tuesday. The Moon was fully eclipsed for more than 75 minutes and shrouded in a red glow from around 07:06 GMT.
Check out the photos below you have been sending us.
Oklahoma, US
Jonathan Landis, from Broken Arrow, Oklahoma, US went to great lengths to get this amazing picture. He took it on his smart phone, through a viewfinder on a large, high-power swivelling floor telescope provided by a member of his local astronomy club, Broken Arrow Sidewalk Astronomers.
Utah, US
Andrew Lee got a great shot of the blood moon from the east side of Utah lake, in Utah, US. He says "I sat out in the cold for three hours but it was totally worth it."
Florida, US
School teacher Joe White, from Lancashire, England is holidaying in Florida, US. He says "We had a magnificent view. I got up at 01:45 local time because I wanted to capture the blood moon on camera to show the children in my class when we get back to school."
California, US
Jacob Seamons, originally from London England, was on Huntington Beach in California, US when the blood moon was in full glory
Colorado, US
Dan Hutchins had this view from the city of Greeley, in Colorado in US at around 01:15 local time.
Minnesota, US
Jack Derham captured the moment in the city of Marshall in Lyon County, Minnesota in the US.
Amazon, Brazil
And Jackson Muriel took this picture from his parent's front garden in a small city in the Amazon called Monte Alegre, in Brazil at around 04:05 local time.