Plans to curb wind turbines onshore will push up electricity bills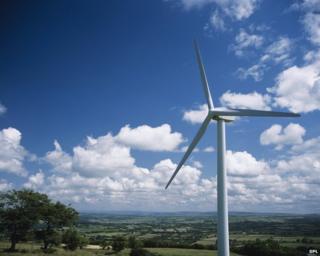 Plans to restrict wind farms to seas around Britain will need much larger subsidies from consumers, experts say.
Newspaper reports suggest that the Conservative Party will include a pledge to limit onshore turbines in next year's election manifesto.
But a member of a working group reviewing UK wind energy said this would require increased subsidies of around £300,000 per turbine per year.
Prof Richard Green said this would have a knock-on effect on electricity bills.
Long unpopular among some Conservative MPs from rural constituencies, onshore wind turbines appear to have incurred the wrath of the Prime Minister as well.
Reports suggest that he wants next year's election manifesto to include a promise to limit subsidies and toughen planning laws to make wind farms unviable in the countryside.
Increased emphasis is to be placed on offshore farms, although it is known that these are more expensive to build and run.
Speaking at the launch of a new report from the Royal Academy of Engineering (RAEng) on wind energy in the UK, Prof Green said that strategy would come at a significant cost in increased subsidies.
Under government plans, onshore wind turbines will receive £90 per megawatt hour of electricity generated from 2017. But offshore turbines get more aid, around £140 per megawatt hour.
"That's about £300,000 per year per turbine that is moved from onshore to offshore," said Prof Green who is an economist.
"That is the cost in additional subsidy, at the rates the government is planning to pay in about 2017. Those subsidies are recovered through electricity bills."
According to the RAEng review, there are around 4,800 onshore turbines either operational or under construction in the UK as of February this year. Another 1,800 have received planning permission.
Offshore there are 1,400 either operational or under construction with another 700 having permission to build.
The report points out that onshore wind energy is more expensive than electricity from coal or gas, but wind is one of the cheapest sources of low carbon power.
However, if the plans to limit onshore wind come to pass, it will mean that meeting legally binding, carbon reduction targets become much more difficult.
"If you want to decarbonise then it will make it harder," said Prof Gareth Harrison from the University of Edinburgh, another member of the working group.
"You are pushed towards more expensive options, you are ultimately pushed towards more carbon intensive sources, solar PV is arguably worse than large wind in many respects."
"It does run counter to the need to decarbonise."
In their report, the engineers say that wind energy can contribute about 20% of the UK's electricity demand without the need for a significant upgrade to the network. Beyond that level though, it gets more difficult.
"Once you get beyond 20%, life becomes more interesting," said Prof Roger Kemp, from Lancaster University, another member of the review team.
"Wind energy has much lower inertia, and so the stability of the frequency can become less good, that's something that has to be thought about."
The Department of Energy and Climate Change (Decc) said that wind was a critical part of the energy mix, the government supported the development of onshore wind in suitable areas and that planning reforms had given communities greater say over the siting of wind farms in their areas.
Concerns over the costs of wind energy have also been highlighted by the Renewable Energy Foundation who say that subsidy payments for energy that is generated when there is little demand for power, are at a record high.
They point to the fact that in March this year, the government paid £8.7m to wind farms not to generate electricity.
The Foundation says that these "constraints payments" were necessitated by difficulties in exporting excess wind power from Scottish farms.
Over the past 12 months, the National Grid says it made special payments of around £300m to energy companies to turn their power off to balance the system.
Follow Matt on Twitter.