Global dip in renewable energy investment
By Mark Kinver
Environment reporter, BBC News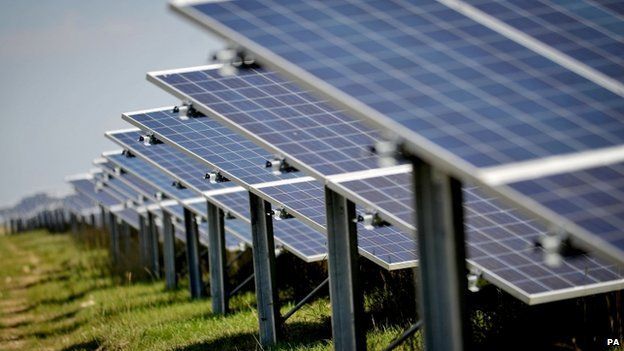 Global investment in renewables fell by 14% during 2013, but the percentage of electricity generated by renewable sources still grew, a report shows.
It said investment fell for the second year in a row because of cheaper technology, but also as a result of uncertainty surrounding energy policy.
However, falling costs meant renewables accounted for 8.5% of the global electricity mix, up from 7.8% in 2012.
Renewables accounted for 43.6% of newly installed generation capacity in 2013.
The assessment said the US $214.4bn (£129.2bn) worldwide investment in the renewable sector during 2013 was 23% below the 2011 record.
One of the report's lead editors, UN energy expert Eric Usher, described 2013 as a "mixed year" for global renewable energy.
Identifying the reasons behind the fall in investment, he explained: "One of the major factors was the fall in the cost of equipment.
"Another negative factor was a touch of policy uncertainty, which saw investors delay spending their money."
He told BBC News that the fall in the cost of the clean energy technologies - particularly solar - had "left some governments thinking that they had been paying too much and reviewed their subsidies".
Mr Usher added that while some nations, such as Germany, had been able to adapt very quickly, "other nations have not handled it quite so well, causing nervousness among investors".
He explained that for a number of years, there was overcapacity in the sector and supply was greater than demand, making it difficult for firms to record a profit.
But lower costs, improved efficiencies and market consolidation had allowed companies to return to profitability.
Mr Usher observed that there were a number of positive signs during 2013, including the fact that the renewable energy sectors in a number of nations, particularly in Latin America, were able to grow completely free of government subsidies.
He added: "For the first time in 2013, China installed more new generation capacity using renewables than fossil fuels.
"So it is a good sign for the sector that the world's largest emerging economy is taking the sector very seriously indeed."
Responding to the assessment, Unep executive director Achim Steiner said: "A long-term shift in investment over the next few decades towards a cleaner energy portfolio is needed to avoid dangerous climate change, with the energy sector accounting for around two-thirds of total greenhouse gas emissions.
"The fact that renewable energy is gaining a bigger share of overall generation globally is encouraging. To support this further, we must re-evaluate investment priorities, shift incentives, build capacity and improve governance structures."
The report's findings are being presented to a Future of Energy Summit in New York, US, which runs until Wednesday.
Related Internet Links
The BBC is not responsible for the content of external sites.