Viewpoints: Reactions to UN climate impacts report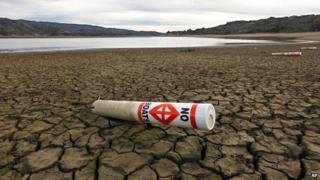 A report by the UN's climate panel provides the most comprehensive assessment yet of the effects of climate change. It says natural systems are currently bearing the brunt, but the scientists fear a growing impact on humans.
Here are some reactions to the report.
Prof Corinne Le Quere, director of the Tyndall Centre for Climate Change Research
This is not just another report - this is the scientific consensus reached by hundreds of scientists after careful consideration of all the available evidence.
The human influence on climate change is clear. The atmosphere and oceans are warming, the snow cover is shrinking, the Arctic sea-ice is melting, sea levels are rising, the oceans are acidifying, some extreme weather events are on the rise, ecosystems and natural habitats will be upset. Climate change threatens food security and world economies.
Connie Hedegaard, EU Commissioner for Climate Action
We need rapid and substantial cuts in carbon emissions and a move away from burning fossil fuels if we are to limit global climate change below two degrees and mitigate these impacts.
More knowledge is always good, more action would be even better. When the alarm goes off, many just hit the snooze button. This does not work anymore when it comes to the climate. It's time to wake up and bring action to the scale needed. Europe is preparing an ambitious reduction target for 2030 to be adopted later this year. I appeal to all major emitters to do the same urgently. It's time to get serious.
John Kerry, US Secretary of State
Unless we act dramatically and quickly, science tells us our climate and our way of life are literally in jeopardy. Denial of the science is malpractice. There are those who say we can't afford to act. But waiting is truly unaffordable. The costs of inaction are catastrophic.
We can already see the damage it's causing to our ecosystems, wildlife, glaciers, and countless other natural habitats. We can feel the impact of rising temperatures and sea level rise on vulnerable coastal areas. We know the security risks of water scarcity and flooding; widespread land and marine species extinction; and devastated crop yields in some of the poorest nations on Earth.
No single country causes climate change, and no one country can stop it. But we need to match the urgency of our response with the scale of the science. 
Prof Nicholas Stern, chair of the Economic and Social Research Council (ESRC) Centre for Climate Change Economics and Policy
While people in all countries will need to make themselves more resilient to those impacts that cannot now be avoided over the next few decades, the potential risks from unmitigated climate change towards the end of this century and into the next will be very severe, particularly if global warming exceeds 2C. The report warns that, during this century, climate change will increase the risk of human populations being displaced to escape shifts in extreme weather, such as floods and droughts, as well as relatively slow-onset impacts, such as desertification and sea level rise.
This report presents a stark case for sharply reducing emissions of greenhouse gases to avoid potentially catastrophic impacts, such as the irreversible melting of the Greenland ice sheet and the resultant rise in sea level, to which we will not be able to make ourselves fully resilient and which lie outside the evolutionary experience of modern Homo sapiens.
Prof Sir Andy Haines, London School of Hygiene and Tropical Medicine
The IPCC report identifies a number of key risks relevant to human health. These include increased risk of death during periods of extreme heat and reduced labour productivity due to increased thermal stress in vulnerable populations. Threats to health and livelihoods arise from increased flooding in coastal areas in small islands and also due to inland flooding in some areas. Of particular concern is the increased risk of under-nutrition resulting from diminished food production in poor regions.
Dr Rachel Warren, Tyndall Centre for Climate Change Research at the University of East Anglia
What we need to do is act fast to reduce emissions of greenhouse gases like CO2. If we do this, we can avoid a large proportion of the impacts.
Unfortunately we have left it too late to rely on reducing emissions alone and we cannot avoid all of the impacts. Some adaptation will be needed. But acting swiftly to reduce CO2 emissions will make adaptation easier. It will be necessary to reduce our emissions and invest in adaptation to avoid most of these climate change impacts.
Ed Davey, Energy and Climate Change Secretary
We do have to act. I see the expenditures we're having to make as an insurance policy, if you like. By paying a small premium now we deal with the risks so we prevent catastrophic climate change.
We have doubled the amount of renewable electricity in the last three years so we are making progress. We have to make an awful lot more. But part of our role is to lead across the world and we've got people across the world working with other governments. And I've seen signs at the UN climate talks that I go to of change in China and the United States. I think it's important that Britain continue to work with our European partners because I think there is a chance now that the world can make the deal it has so far failed to do.
There's an awful lot of things that if we act now and reduce our carbon emissions we can prevent it from getting worse.
Sir Mark Walport, the Government's chief scientific adviser
The implications for the UK are that in low lying regions of the country, there's much more risk of flooding, there's likely to be increased intensity of rainfall, there will be economic losses. It's very difficult to attribute individual weather events to climate change but certainly what we've seen in the last three months is exactly what we'll expect in the UK with the effects of climate change.
I think we're also going to see issues with global food security. There's already evidence of adverse effects on wheat and maize yields when you look at the world as a whole. Even if in some parts of the world the crops are going up, overall they are going down. Food shortages has the potential to cause societal disruption and that has global knock on effects.
The policy makers have got three challenges. Firstly we have to have a secure energy supply, secondly we have to have a sustainable energy supply and thirdly we have to manage the affordability.
Caroline Flint, Labour's Shadow Energy and Climate Change Secretary
This report provides overwhelming and compelling scientific evidence that climate change is happening, is caused by human activity and will have a devastating impact if urgent action is not taken to reduce our carbon emissions and invest in mitigation. It highlights the need for a global, legally binding treaty to cut carbon emissions at the Paris Conference in 2015.
But to have influence abroad we must show leadership at home. That's why the next Labour government will set a decarbonisation target for the power sector for 2030, unshackle the Green Investment Bank and reverse the decline in investment in clean energy we have seen under David Cameron.
Al Gore, 45th US Vice-President
The atmosphere can no longer be used as an open sewer. The costs of carbon pollution are clear: decreasing crop yields, more destructive storms, the spreading of tropical diseases to temperate latitudes, rising seas, more climate refugees, failures of governance, increasing floods, deepening droughts, more destructive fires and heat waves - all contributing to the new reality of the global climate crisis.
Put together, these factors are already affecting the lives of millions around the world by driving them from their homes, disrupting their livelihoods, and in some cases, further straining destabilised regions.
Prof Sam Fankhauser, contributing author to the UN's climate report (AR5) and co-director of the Grantham Research Institute on Climate Change and the Environment
The report documents how countries are already making themselves more resilient to the impacts of climate change, but much more needs to be done. In the UK and the rest of northern Europe, we will need to cope with increasing risks from coastal and inland flooding, heatwaves and droughts. The UK and all rich countries must also provide significant support to help poor countries, which are particularly vulnerable, to cope with the impacts of climate change.
Andy Atkins, Friends of the Earth executive director
Giant strides are urgently needed to tackle the challenges we face, but all we get is tiny steps, excuses and delays from most of the politicians that are supposed to represent our interests.
Governments across the world must stand up to the oil, gas and coal industries, and take their foot off the fossil fuel accelerator that's speeding us towards a climate disaster.