Frolick and Yap to solve climate change?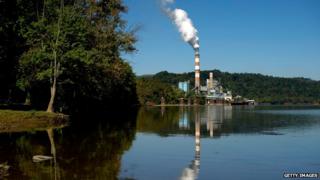 Tackling the causes of climate change has worn the patience of some of the world's biggest brains.
Attempts to put together a comprehensive global treaty have stumbled like drunks, somehow remaining on their feet but struggling to gain any forward momentum.
Time perhaps for alternative strategies?
Time perhaps for Frolick and Yap?
No - they are not a pair of risque, seventies TV detectives.
Cedric Frolick is a respected South African MP and Susan Yap is a Congresswoman in the Philippines.
Together, they are part of an initiative called the Global Legislators Organisation (Globe International), which brings together parliamentarians from 86 countries who are dedicated to advancing laws on climate change.
Laws in order
In the august setting of the US Senate this week, they presented a new report that shows that 66 countries who account for 88% of global emissions of carbon dioxide now have national climate laws in place.
So job done then? No need for a global treaty at UN talks in Paris in 2015? Nations are simply doing it for themselves?
Not quite.
The parliamentarians and others are haunted by the ghost of Copenhagen in 2009 when the charisma and power of world leaders could not forge an effective agreement.
To prevent that happening again, countries must get their climate laws in order, said Lord Deben, who chairs the Globe group.
"We must see more countries develop their own national climate change laws so that when governments sit down in 2015 they will do so in very different political conditions to when they did in Copenhagen."
While the legislators recognise that real progress is being made, they acknowledge that these laws are not enough to keep global temperature rises below 2C, the generally accepted level at which dangerous impacts of climate change kick in - unless that is you are a small island nation, but that is another story.
Some of the bigger, developed countries are showing a marked reluctance to go forward with carbon cuts.
A new government in Australia has proposed repealing some parts of the Clean Energy Act. Japan has lowered the scope of its ambitions in the wake of Fukushima.
And there are other clouds on the horizon that may limit the freedom of the US, a key player trying to shape a deal in Paris in 2015.
President Obama has long supported efforts to curb carbon emissions.
But huge divisions between the Democratic and Republican parties in Congress mean that any attempts at new US legislation on climate is unlikely.
The president has embarked on a policy of using his own authority to get things done.
He has tried to regulate emissions from power stations using the offices of the Environmental Protection Agency (EPA).
But his efforts are now being challenged in the Supreme Court.
And there is a good possibility that he could lose control of the Senate in elections this November.
It is not beyond the bounds of possibility, the world might sign a global deal on climate in 2015 but the US might not be able to ratify it.
The US Senate might throw out any treaty if they feel that it does not create a level playing field, particularly between America and China.
Time for more Frolicks and Yaps.
The Global Legislators Organisation says that much of the new climate laws being put into effect are in emerging economies like China.
What is termed "flagship legislation" has also been passed in eight countries, including Bolivia, El Salvador and Mozambique.
Working behind the scenes, the Global MPs are trying to ensure not just the passage of legislation in developing countries, but that these laws are effectively implemented.
Their thrust is clear. If you can get solid, climate legislation passed in enough nations, then you will have the mechanisms in place to measure, report and verify carbon emissions.
This phrase - MRV in the jargon - is critical to any global deal.
And it is critical to getting the US on board.
Stumbling blocks abound, but the background work of these concerned legislators is helping keep the climate show on road.
For now.
Follow Matt on Twitter @mattmcgrathbbc.