Will we ever learn lessons from flooding?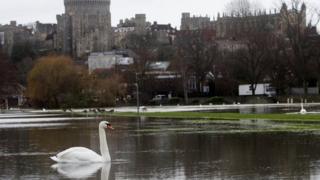 As the winds accelerate and the rivers rise, many are asking if we ever learn the lessons of previous floods.
After the severe inundations of 2007, Sir Michael Pitt was asked to head an independent review.
I interviewed him at the time and he was horrified by multiple failures of planning, warning and response.
A key concern was the lack of what's called resilience: the robustness of everything from power supplies to railways.
Now, as we see signalling equipment waterlogged, among many examples, there will be questions about how seriously the threat of flooding has been taken.
One of the Pitt Review's worries was that the various agencies were not properly coordinated.
Talking to people from the Met Office and the Environment Agency, that problem does seem to have improved.
But one of the central conclusions remains unanswered: that spending on flood defence should rise faster than inflation.
Someone who was close to the review told me privately that the government was now struggling to catch up and had yet to prepare emergency workers and the public for what will be a long haul.