Flood defence response 'disappoints'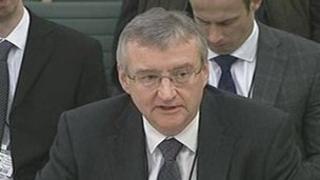 The head of the Environment Agency has been criticised for failing to provide a breakdown of his floods budget when questioned by MPs on Wednesday.
Paul Leinster, the chief executive, was asked by MPs how much of the budget was for maintaining existing flood defences and how much for new projects.
MPs say without this information they can't assess whether the budget is being spent properly.
Mr Leinster spoke at an Environment, Food and Rural Affairs hearing.
But the figures have now been provided to the select committee.
It was a one-off evidence session in Parliament with Cllr Mike Jones from the Local Government Association, Mr Leinster from the Environment Agency, and Defra floods minister Dan Rogerson.
The session started with the chair, MP Anne McIntosh, establishing how big the flood budget is - £2.3bn pounds.
But she wanted to know how that money was divided between capital projects and maintaining current defences.
Mr Rogerson and Mr Leinster both looked at each other but neither had the answer.
Anne McIntosh told You and Yours: "I am disappointed. I think the public and the committee have a right to know.
"It goes to the heart of the argument as to whether there is enough funding and how the money is being spent. We obviously want to know where flood defences have been affected that there is going to be the money available to make good any repairs.
"It is essential we understand if the money is going on very expensive capital projects or whether the money is going exclusively on existing flood defences."
Mr Leinster declined to comment on why he didn't have the figures yesterday.
Listen on You and Yours.