Cattle TB statistics 'overstated' due to computer error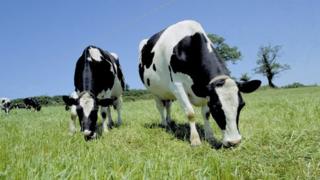 The number of UK cattle herds with TB may have been overestimated due to a computer glitch, it has emerged.
A problem with a government computer system has cast doubt on recent bovine TB statistics.
Figures on cattle TB in the UK from September 2011 have been temporarily withdrawn while they are investigated, says the government.
Opponents to the cull say the announcement undermines political justification for the badger cull.
The computer problem is the latest area of controversy surrounding the culling of badgers in England.
TB numbers 'overstated'
Pilot culls in Somerset and Gloucestershire failed to kill the required number of badgers, while reports suggest policing costs amounted to more than £2m - an average of £1,300 per badger.
The computer problem relates to a new system for recording the number of herds with TB-free status in England, Scotland and Wales, introduced in September 2011.
The Department for Environment, Food and Rural Affairs (Defra) said official figures on herd infections for 2012 and 2013 had been temporarily withdrawn amid concerns the number of herds with TB had been "overstated".
"Further investigations are under way to verify the extent and scale of the problem. However, it can be expected that this data series will be revised significantly downwards for 2012 and 2013," it said in a statement.
A Defra spokesperson said its veterinary agency was amending some of the monthly bovine TB statistics that relate to the number of herds listed as being under TB restrictions.
"This relates to data entry only and does not affect farmers or have any impact on disease control.
"This does not change the need to use every tool we have to reduce the unacceptably high levels of TB."
Dominic Dyer, policy adviser for the wildlife charity, Care for the Wild, described the announcement as "a bombshell which seriously undermines a key element of the government's justification for its disastrous badger cull policy".
He added: "It has now become clear that Defra has been significantly overstating the number of herds with TB since September 2011. This in turn has misled farmers, MPs, the media and the general public on the extent of the bovine TB problem in the UK."
'Losing battle'
Adam Quinney, NFU Vice President, said: "Farmers are doing all they can to stop their herds going down with TB but they are fighting a losing battle while the reservoir of disease in wildlife is not tackled in areas where the disease is rife.
"That is why it is absolutely essential that the disease is tackled on all fronts and by using every option available - increased cattle testing and movement controls, improved biosecurity, vaccination, and targeted control of the disease in wildlife."
The government is due to announce in the next few weeks whether to roll out the policy of controlled shooting of badgers to more areas of England.
Ministers and farmers believe badger culling is needed to control TB in cattle, which can catch the disease from badgers. However, opponents say it will not be an effective solution and is inhumane.
In total, 921 badgers were killed in Gloucestershire, while 940 were shot in Somerset.
Neither pilot managed to remove the 70% of the badger population thought to be needed to make the cull effective in reducing TB in cattle herds in the area, despite a five-week extension in Gloucestershire and a three-week extension in Somerset.
Scotland does not have a problem with cattle TB, with all herds classified as officially TB-free.
Wales has opted to vaccinate badgers rather than carry out culling.