Enormous earthquakes 'are missing' from records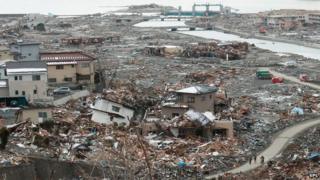 The Earth could have been struck by many more huge earthquakes in its recent history than was previously thought, scientists say.
Research suggests that half of all quakes measuring more than 8.5 in magnitude that hit in the 19th Century are missing from records.
Scientists are scanning historical documents for the lost tremors.
The findings are presented at the American Geophysical Union Fall meeting in San Francisco.
Dr Susan Hough from the US Geological Survey said: "If you try to make a statistical case there are too few earthquakes in the 19th Century."
Earthquakes measuring more than M8.5 cause immense devastation.
Recent examples include the 2004 quake in the Indian Ocean that unleashed a deadly tsunami, Chile's massive 2010 earthquake, and the 2011 event in Japan.
But records before the 20th Century are strangely devoid of natural disasters on this scale.
'Warnings from history'
"Seismometers were developed around 1900. As soon as we had them, earthquakes started to look bigger," explained Dr Hough.
Researchers use historical documents to track down seismic events that occurred before this and assess their magnitude.
Dr Hough believes that many large earthquakes in the 18th and 19th Century have been missed.
One reason for this is because there is a general assumption that earthquakes measuring M8.5 and above generate significant tsunamis.
"But this isn't always the case, and the magnitudes for some of these earthquakes has been underestimated," said Dr Hough.
A candidate is a quake that hit Kamchatka in Russia in 1841. Its magnitude had been thought to be 8.3, but now Dr Hough believes it should be upgraded to M9.2.
Another is a quake that struck in the Lesser Antilles in 1843.
Dr Hough said: "This was catalogued at a low magnitude 8. It turns out it was felt by a quarter of the globe."
The researchers say finding these lost earthquakes is vital to help them assess where and when these deadly events could strike next.
In another piece of research presented at the AGU meeting, scientists say they have created a database of earthquakes that occurred in the years 1000 to 1900.
Again the team has been trawling through historical documents to catalogue the events.
Dr Roger Musson from the British Geological Survey said the database provided a "warning from history".
"For example, with the Fukushima disaster - people were surprised that there was such a large tsunami," he told BBC News.
"But it happened before. There was a historical earthquake in the 9th Century that was very similar."
The catastrophic earthquake that hit Port-Au-Prince in Haiti in 2010 was another example, he said.
"People shouldn't have been surprised that an earthquake happened there. There was a very similar earthquake in the 18th Century," Dr Musson added.