Lack of children's exercise policy is 'child neglect'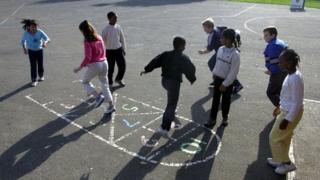 Lack of a proper national policy to get UK children to do more exercise amounts to mass "child neglect", the British Journal of Sports Medicine says.
An editorial in the magazine says successive governments have failed to implement a comprehensive national policy to promote children's exercise.
A sedentary lifestyle risks storing up health and other problems, it argues.
Former Children's Minister Tim Loughton called the comments alarmist and unhelpful.
The editorial says that despite a wealth of evidence showing the immediate and long-term benefits of regular exercise in childhood and the expanding waistlines of UK children, leadership and strategy on the issue "are totally absent".
Co-author Dr Richard Weiler, a consultant in sport and exercise medicine at University College London and club doctor at West Ham football club said: "There has been a persistent failure from this government and former governments to meet children's basic physical and psychological needs."
Funding 'pitiful'
He told BBC Radio's Today programme that this failure "meets the government's own definition of child neglect."
He called the level of finance allocated to promote physical activity among children "pitiful".
He said schools had a key role to play in promoting physical activity as "children don't choose who their parents are".
"At the moment there is no statutory obligation for schools even to provide physical activity and physical literacy and Ofsted don't monitor it," he added.
But Mr Loughton said: "I don't know if the British Journal of Sports Medicine is trying to promote a Christmas special, but this sort of sensationalist story is really unhelpful.
"I agree we need to do much more for kids and sport, making it a part of their growing up, something that they want to do because it's fun and enjoyable as well as being good for them - but child neglect is a persistent failure to meet a child's basic physical and psychological needs, resulting in serious impairment of health and that is a world of difference from kids not doing enough sport.
'Finger wagging'
"Is Dr Weiler suggesting we should be taking millions more children into the care of the state? Because that's not the solution."
Mr Loughton said he agreed with Dr Weiler's diagnosis but accused him of alarmist finger wagging, adding that parents also had a role to play and that making sport and physical activity mandatory in schools risked putting children off "from a very early age".
He added the government's programme for the School Games, a national competition for elite young athletes, would promote more physical activity and sport and had already proved "a tremendous success".
But Dr Weiler said it was naive and short-sighted to focus on sport rather than physical activity, showing "a lack of understanding of children's heath and wellbeing and their development".
The editorial calls for current and future governments and educational bodies to act to create a comprehensive child-centred physical activity policy to give children from all backgrounds and sporting abilities every opportunity to be active on a daily basis.