Wind turbines on farms 'can help UK meet food and energy needs'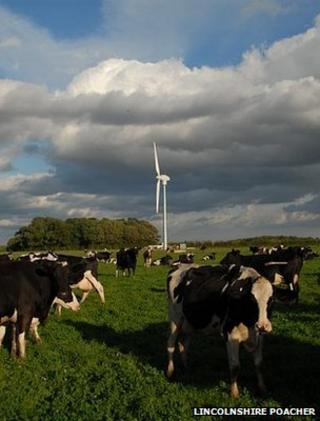 Allowing farmers to use renewable energy technology on their land will help the nation meet its future food and energy needs, experts suggest.
By generating on-farm electricity, farmers would be able to cut their costs of producing food and more likely to remain in business, they added.
Analysis suggested farmers could earn up to £50,000 a year from generating electricity from wind energy.
Agricultural land accounts for almost 75% of the UK's land cover.
"There are about 300,000 farms in the UK so if you are going to have renewable energy generation at any level of scale, farmers have the land and the capacity to install those renewable energy schemes," explained Nicky Conway, principal sustainability adviser for Forum for the Future and one of the speakers at the Great British Wind Meal event.
"Therefore they should be a target audience because they have the land and the resources to produce the energy," she added.
The invited audience at the event on the Devon/Cornwall border, organised by trade association RenewableUK and online energy community Energyshare in partnership with the River Cottage food business, also heard the results from a survey of the attitudes of almost 700 UK farmers towards renewable energy.
It reported that 38% of the respondents were already generating electricity from renewable sources.
The survey - carried out during the summer by Nottingham Trent University, Forum for the Future and Farming Weekly - also showed that 61% of those who didn't currently generate renewable electricity on their farms said they were likely to invest in renewable energy generation in the next five years.
Beyond the niche
Also, it added that 76% of the respondents did not believe the potential for renewable energy was being met.
Ms Conway observed that the results suggested that the technology was primarily being adopted by "pioneers... rather than the mainstream".
She explained to BBC News that a project, Farm Power, was attempting to "enable a step-change in uptake of farm-based energy across the UK".
"The specific way that we would like to do that is to try and build a common evidence-based vision, and [highlight] why can farm-based energy can play such a critical role in the UK's energy system rather than being a niche activity," she added.
"The other thing we want to do is unlock some of the key barriers. Things like grid connections and accessing finance, particularly for lower income farmers."
She said closer analysis of the survey's results showed that farms with annual turnover in excess of £500,000 were the ones most likely to be generating renewable energy.
Maf Smith, deputy chief executive of Renewable UK, told the audience that running a farm business, with rising costs and fluctuating returns, was very unstable.
"Food is a global commodity, so prices elsewhere in the world can affect the prices that UK farmers receive," he said.
He added that sharp rises in the cost of energy were difficult to absorb, especially for farmers operating on tight margins but "wind energy is where you can get ahead of that curve".
"That is what many farmers are doing. They can lock in their energy costs - the cost of wind, as a fuel, is nothing."
Bodmin Moor hill farmer and explorer Robin Hanbury-Tenison told the audience that he did not recognise the "fuel v food" concerns, which argue that valuable agricultural land was being used to site renewable energy technology - such as biomass and solar arrays - rather than being used to grow food.
"A lot of people say that PV panels are taking up land, wasting land but far from it if it is done properly," he said.
"My sheep prefer being under or around the panels than being in the open fields. The grass grows better, they also have lovely shelter and they lamb underneath them."
'Pure energy'
The event organisers provided a lunch using products from farmers that had installed wind turbines on their land.
Broadcaster and campaigner Hugh Fearnley-Whittingstall, who designed the Wind Meal's menu, said the idea of seeing wind power as an additional "crop" for farmers was "an intelligent and timely one".
"All farmers are in the business of renewable energy - that's what food is," he told BBC Spotlight.
"Farmers produce food, we consume that food for our energy, and for farmers to stay in business it has to be a renewable business."
He added that if generating renewable energy helped a farm to remain in business then it also helped maintain food supplies and food security.
"The idea of farmers diversifying into 'pure energy' as well as food energy makes a whole lot of sense.
"We know that wind is going to be an important part of our energy into the future."
Mr Fearnley-Whittingstall observed: "Who has got best access to wind in the country? Our farmers."