'Love island' in space pic shortlist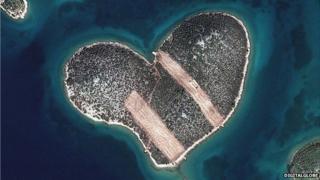 A heart-shaped island, a huge artwork and a portrait of Italy's Mount Vesuvius are among the images shortlisted in a contest to decide the year's best picture from space.
The contest is being run by satellite imagery company DigitalGlobe.
The Colorado-based firm provides pictures to private and government clients via its commercial satellites.
The Vesuvius image is currently leading the contest on Facebook, with more than 4,000 likes.
DigitalGlobe operates the IKONOS, Quickbird, WorldView-1 and WorldView-2 and GeoEye-1 spacecraft.
Voters can "like" as many images as they want, and the top five images will make it through to the final round.
The shortlist includes subjects of topical relevance during 2013, such as the new island created by an earthquake off the Gwadar coast in Pakistan and an image of the Citadel of Aleppo in Syria.
Another shows bushfires in Australia during a heat wave which became known as the "Angry Summer".
Other images are just visually arresting, such as one of a massive algal bloom, or "green tide", near the city of Sur in Oman, which resembles a special effect from a science fiction film.
The five finalists will be announced by the company later this month.
Last year's winner depicted the annual Burning Man Festival held in the Black Rock Desert, Nevada.
Paul.Rincon-INTERNET@bbc.co.uk and follow me on Twitter