Long term study finds lemon sharks go home to reproduce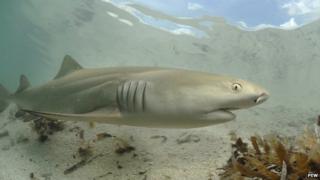 Researchers say they have found the first direct evidence that female sharks return home to breed.
In the study, scientists tracked lemon sharks in the Bahamas for 17 years to prove the case.
Even though this species is highly migratory, pregnant females prefer to give birth where they themselves were born.
The researchers say it strengthens the argument for restrictions on fishing at specific sites.
The idea of females returning to their own place of birth to reproduce has been observed in a number of marine species most notably in salmon but it has also been seen in sea turtles.
In this new work, researchers looked at lemon sharks in their largest nursery area around the Bimini Islands in the Bahamas.
Homeward bound
However since they are slow to mature, it required the scientists to undertake a long-term study to show that the females were returning home to give birth.
Between 1995 and 2012, the team deployed nets and tagged, measured and took genetic samples from every lemon shark they captured.
The researchers found that at least six females returned to give birth when they were between 14 and 17 years old.
Although the sample is small, the scientists say that the six represent between 24% and 75% of surviving females in the studied group.
"The issue is that not many of these babies will reach adulthood," said Dr Kevin Feldheim, from the Field Museum of Natural History, one of the lead authors.
"Of the couple of hundred sharks that were born between 1995 and 1998, only about a dozen reached adulthood. So the fact that we found six, we think is pretty significant."
The researchers don't know the mechanism behind the drive to return, but they believe it could be widespread in other shark species.
"The maternally inherited DNA does show structure in other species and it is often attributed to the mothers coming back to specific sites to give birth," said Dr Feldheim.
"We don't know whether they are coming to where they were born like in lemon sharks. It is very possible that this occurs in other shark species."
The scientists believe that there are important conservation lessons to be drawn for work.
If sharks are returning to specific sites at specific times, the authors believe it would make sense to close these areas to fishing to allow them to give birth.
Follow Matt on Twitter.