Microplastics 'pose toxic threat to marine biodiversity'
By Mark Kinver
Environment reporter, BBC News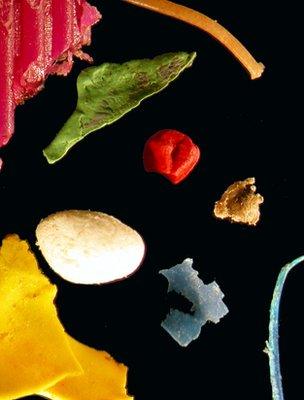 Tiny particles of waste plastic that are ingested by shoreline "eco-engineer" worms may be negatively affecting biodiversity, a study says.
So-called microplastics may be able to transfer toxic pollutants and chemicals into the guts of lugworms, reducing the animals' functions.
An estimated 150 million tonnes vanishes from the global waste-stream each year.
The findings have been published in the academic journal Current Biology.
"We are losing a large volume of plastic and we know it is going into the environment and the assumption being made by policymakers is that this material is non-hazardous, it has got the same ranking as scraps of food," explained co-author Mark Browne, an ecologist from the US-based National Center for Ecological Analysis and Synthesis.
"The research we have done really challenges that," Dr Browne added, referring to the findings of lab work carried out by colleagues at Plymouth University, UK, led by co-author Prof Richard Thompson.
"Our findings show that the plastic itself can be a problem and can affect organisms.
"Also, when particles of plastic go into the environment what you find is that they accumulate large quantities of pollutants that are banned. So you have these particles themselves but also a load of nasty chemicals."
The team found that the tiny bits of plastic, which measure 1mm or smaller, transferred pollutants and additive chemicals - such as flame-retardants - into the guts of lugworms (Arenicola marina).
This process results in the chemical reaching the creatures' tissue, causing a range of biological effects such as thermal stress and the inability to consume as much sediment.
Dr Browne explained that this had consequences for the surrounding ecosystem.
"If the animals are not able to eat as much then there is a change in the function of the organisms and there is an impact on the semblance of the species found in an area," he said.
He added that the worms had earned the nickname "eco-engineers" as a result of their ability to eat organic matter from the sediment and prevent the build-up of silt.
"Through that process, it produces burrows and changes the whole assemblage of animals that live around it," Dr Browne observed.
"This is quite considerable because if you look at the total biomass of a shoreline, about 32% can be made up from these organisms."
He told BBC News that it was the first study of its kind to highlight the toxic risk posed by microplastics to marine organisms.
"For about 40 or 50 years, we have been finding very large concentrations of chemicals in animals. Then they started to find animals with larger concentrations of pollutants and plastics, so researchers began to establish this correlation.
"But no-one had actually shown whether chemicals could transfer from plastic when they are eaten by animals and accumulate in their bodies and reduce important functions that maintain their health."
Related Internet Links
The BBC is not responsible for the content of external sites.