UK-built video camera launches to International Space Station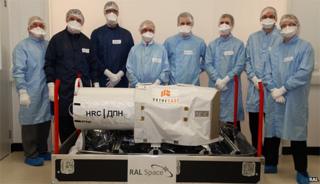 A Russian Progress freighter has launched to the International Space Station (ISS) carrying a pair of UK-built Earth observation cameras.
One of the imagers is a high-resolution video unit that will return short snatches of the planet's surface up to about 150 times a day.
The Rutherford Appleton Laboratory in Oxfordshire made the cameras for a Canadian start-up called Urthecast.
The company hopes to build a business around space station imagery.
One of the customer sectors for the hi-res video, for example, is likely to be news organisations that want moving pictures of major events, such as war zones and regions of the Earth hit by natural disasters.
The movie camera should be able to pick out details as small as a metre across from the ISS's altitude of 400km.
This means it ought to be possible to discern large crowds and moving vehicles.
The second camera will provide static imagery at a resolution of 5m per pixel. Urthecast hopes to have both units operational in the New Year, shortly after they have been installed on a special gantry at the rear of the station by spacewalking astronauts.
The Progress-53 cargo ship lifted clear of the Baikonur Cosmodrome in Kazakhstan atop a Soyuz rocket at 02:53 local time (Tuesday, 26 November - 20:53 GMT, Monday).
Scott Larson, the CEO of Urthecast, was at the Kazakh spaceport to witness launch.
"There are a lot of very happy Canadians, a lot of very happy Brits and a lot of very happy Russians," he said. "It is truly spectacular. We are just incredibly grateful and thankful to have the opportunity to come here, and for all the hard work that has gone into it."
The Progess docking at the ISS is planned for Friday. As well as the cameras, the freighter is carrying general hardware, food, and fuel needed by the station's astronauts.