SpaceX postpones launch of SES TV satellite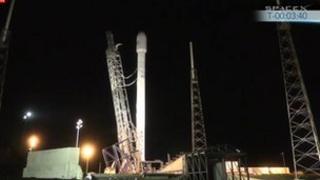 The US SpaceX company had to postpone its latest launch of a Falcon 9 rocket from Cape Canaveral on Monday.
It was trying to put a 3.1-tonne TV satellite in orbit for the Luxembourg-based operator SES.
Three attempts were made to get the Falcon off the ground in the allotted 65-minute window, but on each occasion controllers were thwarted by a glitch.
The last hold was ordered because of unexpected readings with the first-stage liquid oxygen system.
A new attempt has been targeted for Thursday at 17:38pm local Florida time (22:38 GMT).
The SES mission is an important new step for SpaceX.
All previous flights of its Falcon rocket have gone to low-Earth orbits. This has been work mostly for the US space agency (Nasa), to keep the space station stocked with supplies.
The SES mission, on the other hand, would see the rocket haul a spacecraft thousands of km above the Earth - the destination of the world's TV and telecoms platforms.
SpaceX wants to capture a sizeable share of the market to launch these satellites - a market which is currently dominated by European and Russian rockets.