'Friend of science' Fred Kavli dies aged 86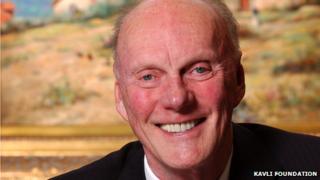 Fred Kavli, founder and chairman of The Kavli Foundation, has died at the age of 86.
Mr Kavli has made a series of philanthropic donations to set up research institutes across the world.
His foundation also sponsors prizes for scientific achievements.
The president of the foundation, Robert Conn said Mr Kavli's passion was to harness science to make the world a better place.
"We will forever be grateful to Fred Kavli," he said in a statement.
"(He was) someone who, with the foundation, invested his heart and soul into ensuring that science will make this a better world for future generations. And we will carry forward this mission with the same commitment and dedication that he gave to science and his life."
Mr Kavli contracted a rare form of cancer last year and died from complications of surgery.
He earned a vast fortune from his company Kavlico Corporation which became the world's largest suppliers of industrial sensors.
He spent the later years of his life giving his money away to set up scientific institutes for astronomy, neuroscience and nanotechnology across the world.
These included the Kavli Institute for Astronomy in Cambridge.