Aid agencies say typhoon shows need for action on climate change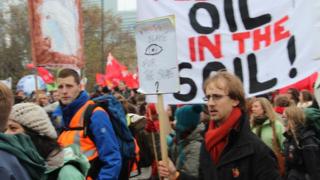 The UK's Disasters Emergency Committee (DEC) has urged countries to take urgent action on climate change, as UN talks enter their second week.
The committee, comprising 14 aid agencies, said Typhoon Haiyan was a glimpse of the future for millions who will be at risk from extreme weather.
It said the meeting in Warsaw should agree to rapidly cut carbon emissions.
But negotiators say such action is unlikely as a global deal is not expected until 2015.
The British agencies argue that extreme weather events such as Typhoon Haiyan follow a growing pattern of threat that points strongly towards climate change.
In 2012, the Philippines was the country that suffered the most fatalities from extreme weather events and was ranked the second most affected from climatic disasters.
Now Haiyan has struck and affected around 12 million people.
"This should be a wake-up call for negotiators who have been sleepwalking through a process fraught with delay and indecision," said Oxfam's Max Lawson.
"The images we have seen from the Philippines are a reminder that climate change is not about numbers and process, but a growing reality for poor people who desperately need support to protect themselves and build safer futures."
Prime Minister David Cameron, speaking at the Commonwealth Heads of Government meeting in Sri Lanka, seemed to support this view, saying the "evidence appeared to be growing."
However, scientists point out that unequivocally linking a specific weather event such as Haiyan to climate change is impossible.
Tears and silence
Scientists are reluctant to attribute any single weather event such as a typhoon to climate change, arguing that there is not enough data to support such a conclusion.
In particular, the recent IPCC report on the physical causes of climate change said there was low confidence about the link between the human contribution to observed changes in relation to cyclones.
In a blog post, American meteorologist Dan Satterfield underlined why blaming Haiyan on climate change will not be possible for decades. His view is that all weather events are being affected by a warming world, but it remains impossible to pick out a single one like the terrible typhoon in the Philippines
Regardless of the specific link, delegates meeting here in Warsaw were quick to see the impact of the typhoon as a reason to up the pace of their work.
Last Monday at the opening of the talks, the Philippines' lead negotiator Yeb Sano issued an emotional appeal to "end this madness".
His heartfelt appeal drew tears from some delegates and a three-minute silence in memory of those who lost their lives.
But the realities of making progress in these UN negotiations hit home on Friday when Japan announced that as a result of the Fukushima disaster it would have to renege on its promises to make massive emissions cuts by 2020.
However the DEC members point to the widespread public support for those affected by Haiyan, with an emergency appeal raising £30m in the first three days.
They argue the same spirit should influence the UN talks.
"We need to see a response from the delegates in Warsaw to match that of the overwhelming response of the public to this devastating tragedy," said Cafod's Neil Thorns.
"It is not fair, it is not just and it cannot go on that those living in poor and vulnerable communities, such as in the Philippines, are being affected now whilst governments fail to steer us to a better future based on our shared responsibility to care for our planet now and for future generations."
In their statement the committee members say that UN negotiators must rapidly deliver a mechanism by which compensation can be paid for loss and damage caused by climate change and they must drastically cut global emissions of carbon dioxide.
However the reality of this ponderous process is that the calls for action will likely fall on deaf ears, at least for now.
Ministers arriving here for the second week of the talks are likely to agree to nothing more than to keep the talks going, knowing full well they have until 2015 to secure a new global deal.
The complexities involved and the need for consensus among the parties means they are likely to take every last minute.