Biodiversity offsetting plans too simplistic, MPs warn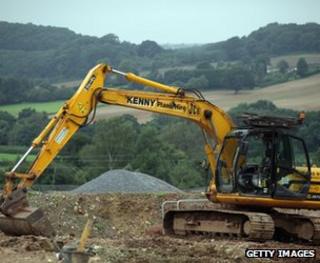 Biodiversity offsetting plans outlined by the government must be strengthened if they are to "properly protect Britain's wildlife", MPs have warned.
The scheme aims to ensure that when a development causes unavoidable damage to biodiversity, "new, bigger or better nature sites will be created".
But the MPs say the assessment proposed by ministers appears to be little more than a "box-ticking exercise".
Six areas are taking part in a two-year pilot, which began in April 2012.
Environmental Audit Committee (EAC) chairwoman Joan Walley MP said many witnesses that gave evidence to the EAC's inquiry had voiced concerns that key habitats - such as ancient woodlands and Sites of Special Scientific Interest - would be included in the government's offsetting plans.
'Not adequate'
"There is a danger that an overly simplistic offsetting system would not protect these long-established ecosystems," she added.
"Biodiversity offsetting could improve the way our planning system accounts for the damage developments do to wildlife, if it is done well.
"The assessment process currently proposed by the government appears to be little more than a 20-minute box-ticking exercise that is simply not adequate to assess a site's year-round biodiversity.
Ms Walley explained: "If a 20-minute assessment was carried out in a British wood in winter, for instance, it would be easy to overlook many of the migratory birds that may use it as habitat in summer."
However, in their report, the MPs acknowledged that it was "too soon to reach a decision" on offsetting while the pilot schemes had yet to be completed and independently evaluated.
But they added that they were publishing their report now as ministers were considering submissions made during a public consultation on the proposals.
The consultation on how the scheme would be rolled-out across England closed last week and officials are now considering the submissions.
Responding to the EAC's findings, National Trust natural environment director Simon Pryor said the MPs' report showed that the government had to take its time to ensure to get the scheme right.
"Offsetting could be a positive way to help avoid the loss of wildlife that can result from development - but only if it is done properly," he observed.
"If a system is introduced too rapidly, and without adequate testing and evidence, the prospect of a workable and supportable biodiversity offsetting system would be undermined for many years to come."
In its consultation document, the Department for the Environment, Food and Rural Affairs (Defra) said that England faced "the twin challenges of growing its economy and improving its natural environment", adding: "We will not achieve these goals unless our planning system is fit-for-purpose."
A Defra spokesman told BBC News: "Biodiversity offsetting could help improve our environment as well as boost the economy.
"This report, along with other consultation responses, will help us get the detail of the policy right," he explained.
"We will formally respond to the report in due course."
A number of reports, produced by the Ecosystem Markets Task Force and the Natural Capital Committee, had identified biodiversity offsetting as a way of delivering a sustainable planning system.
However, an independent review of England's wildlife sites, led by Prof Sir John Lawton, concluded in September 2010 that biodiversity offsetting must not become a "licence to destroy" or damage existing habitat of recognised value.
"In other words, offsets must only be used to compensate for genuinely unavoidable damage," the review recommended.
Defra said that offsetting schemes had been adopted in more than 20 countries, including Australia, Germany, India and the US, as a means of protecting biodiversity.
Ms Walley also observed that the pilot schemes, which are scheduled to run until April 2014, had "not had a good take-up".
"That suggests that these sorts of schemes need to be mandatory, but the government should exercise some caution about this because the pilots need to be rigorously and independently assessed first to make sure all the lesson are properly taken on board".