Evolution pioneer honoured by statue and new wasp genus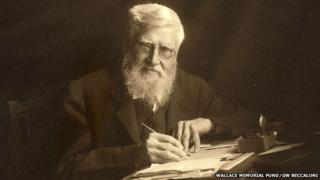 The 100th anniversary of the death of Alfred Russel Wallace, the "forgotten hero" who co-discovered evolution, is being marked today in London.
The first ever statue of the naturalist will be unveiled at the Natural History Museum by Sir David Attenborough.
A new wasp genus - Wallaceaphytis - has been named in honour of the man who has been in Darwin's shadow ever since they co-published their theory in 1858.
The wasp was discovered in Borneo, where Wallace carried out his research.
"It seemed only fitting to name it in his honour, especially as it is the centenary of his death," said Dr Andrew Polaszek of the NHM, one of the expedition team who found the insect last year.
They have published their discovery in the Journal of Natural History - the same annals in which Wallace published his famous paper on the origin of species - "the Sarawak Law".
Just one millimetre long, the wasp belongs to a group known as parasitoids, which lay their eggs inside other insects or spiders.
"Wallaceaphytis is so unusual that one of my volunteers called me over to the microscope saying 'this looks really strange'," Dr Polaszek told the BBC.
"Not only is it a new species but also a completely new genus. And we found it in Wallace's old stomping ground."
The incredible variety of insects Wallace discovered during his travels in the Malay Archipelago inspired his theory of evolution by natural selection.
He described his ideas in an essay which he sent to Charles Darwin - who subsequently sought to co-publish his own independent version of the theory.
But while there are many, many monuments to Darwin, there has never been a single one of Wallace - until today.
A life-size bronze sculpture by Anthony Smith will be unveiled at the NHM by Sir David Attenborough.
"For me, there is no more admirable character in the history of science," said Attenborough of Wallace, in a special BBC audio slideshow charting the explorer's life and legacy.
The new statue is the result of a fundraising campaign by the Wallace Memorial Fund, which is holding a special day of talks, Consensus, in London on 16 November.
It depicts the moment when Wallace first glimpsed the male of the golden birdwing butterfly (Ornithoptera croesus), on Bacan Island, Indonesia, in 1859.
"The beauty and brilliancy of this insect are indescribable," wrote Wallace in his book The Malay Archipelago.
"On taking it out of my net and opening the glorious wings, my heart began to beat violently, the blood rushed to my head, and I felt much more like fainting than I have done when in apprehension of immediate death.
"I had a headache the rest of the day, so great was the excitement produced by what will appear to most people a very inadequate cause."