Culling badgers? Call the 'paras'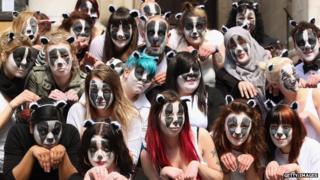 Fresh from leading his very own dessert campaign, Environment Secretary Owen Paterson is now doing his bit for "iconic species". And no, I don't mean badgers.
Mr Paterson is visiting Kenya this week where he will announce that British Army paratroopers will provide training for local wildlife rangers in their fight against poaching.
"Illegal poaching is having a devastating effect on some of the world's most iconic species and we must work together to tackle it," Mr Paterson said ahead of his visit.
But perhaps the training and guidance that the paratroopers will be providing, could also be put to good effect back home?
As well as details of Mr Paterson's safari to save endangered species, the Department for the Environment, Food and Rural Affairs (Defra) published his latest written ministerial statement on the badger cull taking place in Gloucestershire and West Somerset.
You'll recall that in both pilot areas, the culling companies were forced to apply to Natural England for extra time to meet the 70% target stipulated in their licences.
In West Somerset the natural born cullers were authorised to kill an extra 165 badgers in the three weeks of added time.
They managed to shoot an extra 90.
So instead of the 70% needed to reduce the incidence of TB in cattle, the men of the night managed to get to 65%.
Perhaps with some of that paratrooper training, they would have hit the target?
Or maybe those dastardly poachers could be persuaded to visit West Somerset and Gloucestershire?
It shouldn't happen to a vet
According to Mr Paterson, the failure to hit the magic number doesn't really matter.
For this is but year one of a grand four-year plan. This is not to be confused with those old Soviet five-year plans where the harvests were always abundant, and the workers were always smiling.
In his statement, Mr Paterson said the advice from the Chief Veterinary Officer "was that a further increase in the number of badgers culled after the initial six-week period would improve the disease control benefits achieved even further and enable them to accrue earlier.
"With the further removal of badgers seen," Mr Paterson went on, "the extension has been successful in meeting this aim."
So even if they had shot just one extra badger, would that also improve the disease control benefits?
I'm getting a sense that goalposts might once again be in motion.
Because just a year ago, when he was explaining to the House of Commons why the badger cull should be postponed, Mr Paterson was at pains to say that getting to this magic number was crucial to the success of the trial.
"It would be wrong to go ahead if those on the ground cannot be confident of removing at least 70% of the populations," he said at the time.
There's an old adage in boxing, that tactical plans go out the window when you get the first punch on the nose.
It would appear that Mr Paterson's hooter has been shipping a few blows.
Follow Matt on Twitter.