Green spaces 'can save NHS billions'
By Mark Kinver
Environment reporter, BBC News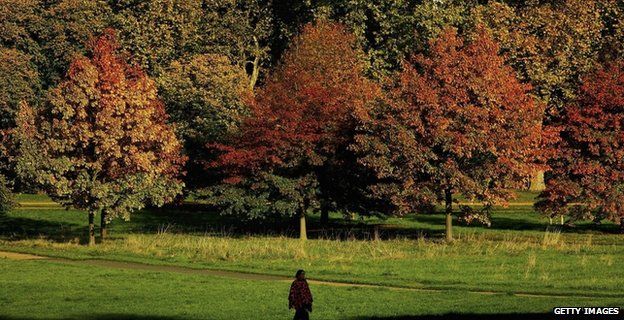 The Woodland Trust's chief executive has said increasing people's access to green spaces could cut billions of pounds from the NHS healthcare bill.
Sue Holden said it had been calculated that the NHS could save £2.1bn a year if everyone had access to green spaces.
She made the comments at an event to mark the culmination of the five-year VisitWoods project.
Ms Holden added that only an estimated 14% of the UK's population had "easy access to trees".
She told an audience of invited guests at the Houses of Parliament that the link between "healthy woods and healthy lives" was a "connection that really has to be made much more and much more often".
She added: "It is a connection that we know intrinsically, we believe it to be true but - increasingly - it is something that evidence is backing up as well.
"It has been calculated, for example, that £2.1bn of healthcare costs could be saved if everyone had access to green spaces."
But she added that just 14% of people in England had access to woodlands within 500m of their home.
One of the invited speakers, planning minister Nick Boles, said he was keen for people not to just think in a "defensive way about woodlands".
He explained: "Although it is important to think about how we preserve what we have inherited, but we must also think about how we create something new, how do we make sure that our burgeoning population in new cities and suburbs are able to enjoy little slices of woodland like so many of us have done.
"Just because something is not 400 years old does not mean it does not have value because in 200 years' time, they will thank us just as we thank those who went before us and planted those woods."
The VisitWoods project, funded by Natural England, is an online database of 11,500 woodlands around the UK open to the public.
The website, hosted by the Woodland Trust, also listed details of woods owned by the likes of the Forestry Commission, National Trust, RSPB, Wildlife Trusts, councils, organisations and individual landowners.
During the event, hosted by Conservative MP Charles Walker, case studies were presented that, organisers said, highlighted the link between green spaces and peoples' wellbeing.
These included obesity, mental health, dementia and autism.
The role that green spaces and woodlands can play in improving people's wellbeing has been the focus of a growing body of research.
A study published earlier this year suggested that urban green spaces did improve people's wellbeing and quality of life.
Researchers from the University of Exeter, using data from 5,000 households over 17 years, found that people reported lower levels of mental distress and higher degrees of life satisfaction when they were living in greener areas.
Researchers agree that the body of evidence is sufficient for urban planners to factor in the benefits derived from green spaces when designing new developments.
Other research has included identifying a link between the lack of regular contact with the rural and natural environment and an increase in the number of cases of allergies and asthma.
In Japan, the health benefits of spending time in forests has its own word, shinrinyoku, which means "forest bathing".
The disconnection of an increasingly urbanised society with the natural world has been described as "nature-deficit disorder".
The phrase, coined by Richard Louv, US author of Last Child in the Wood, primarily focuses on how the current generation of children's contact and understanding of nature has "changed radically" from their parents' and grandparents' experiences.
A 2009 report by Natural England found that only 10% of children played in woodlands, compared with 40% of their parents' generation.
A joint event this week organised by the Royal Society for the encouragement of Arts, Manufactures and Commerce and the Field Studies Council hosted a discussion entitled Reaching into the Outside.
It aimed to address concerns that future conservation efforts were at risk as the world became increasingly disconnected with the natural environment outside their doors.
The Woodland Trust's head of government affairs, James Cooper, said there was a "need to act on the progress made by VisitWoods and… improve people's access to woodlands, such as encouraging health professionals to make better use of woodlands as a resource".
He told BBC News: "What the project has shown is that by providing knowledge, you can unlock the potential of woodlands for people that live nearby.
"From a policy point of view, one of the key things is that it shows the ability of trees and woodlands to deliver on a range of government agendas beyond the obvious.
"We would want to see better joined up working between health, environment and planning agendas."
Related Internet Links
The BBC is not responsible for the content of external sites.