'Missing' badgers: call for answers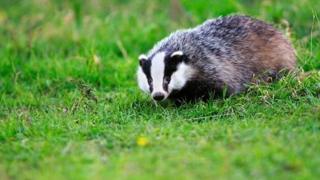 Conservationists are calling for an investigation into plummeting badger numbers in the run up to the cull.
The apparent 50% decline over a year before the cull started appears to be unprecedented, data from other badger populations suggests.
Government officials have blamed the cold winter, disease or lack of food for the dwindling numbers.
But a wildlife charity claims illegal killing of badgers may behind the fall in numbers and is calling for answers.
Meanwhile, reports on social networks suggest protestors have been interfering with the hair traps used to assess badger numbers. This could potentially lead to errors in population estimates.
There have been three official attempts to count badgers in west Somerset and west Gloucestershire in the run up to the cull.
The first estimate - in October 2012 - concluded there were 3,644 badgers in west Gloucestershire and 4,289 in west Somerset.
This was revised down in February this year to 3,368 in west Gloucestershire and 2,473 in west Somerset.
Then, just before the cull began, a new estimate of the badger population was produced of 2,350 badgers in west Gloucestershire and 1,450 badgers in west Somerset.
The data suggests the population in both areas has fallen from around 8,000 badgers in October 2012, to around 4,000 badgers a year later, across both zones.
Defra have given a number of reasons for the apparent 50% decline, including the impact of last winter's bad weather, disease and lack of food.
"These badger populations go up and down," the environment secretary Owen Paterson said last week.
"We're dealing with a wild animal, whose numbers will go up and down depending on weather, disease and other conditions."
However, wildlife charities are concerned that illegal killing of badgers may be behind the fall in numbers.
Last week, it was claimed that farmers in the Somerset cull zone had admitted to gassing badgers.
The wildlife charity, Care for the Wild, is among those calling for an inquiry into the "missing" badgers.
Policy officer Dominic Dyer said it was a serious issue and he would like to see more answers from the secretary of state.
"A climate has been created which allows certain individuals to believe they can carry out illegal killing and will not get prosecuted," he said.
"And I think that has got much worse over the past 12 months, and that's shared by many people in the wildlife conservation movement as well.
"I don't think we have got an accurate feel now for what the numbers are - and we are continuing to cull, that is a very dangerous combination."
Reasons 'complex'
Data on wild badger populations in England is sparse. However, two badger populations have been well studied - at Wytham Wood in Oxfordshire and at Woodchester Park in Gloucestershire.
If factors such as poor weather and lack of food are behind the fall in badger numbers in the cull zones, similar fluctuations would be expected in neighbouring populations, say scientists.
A Defra report summarising 25 years of population studies between 1982 and 2006 shows rises and falls in the badger population at Woodchester Park over this time period, but not on a level comparable with the fall reported over the past year.
Defra has not given recent information on the badger population at Woodchester Park.
But a source said that while badger populations at Woodchester Park do show fluctuations, the biggest change year-on-year is about 17%.
Prof Rosie Woodroffe of the London Zoological Society has studied badgers for many years, including at Wytham Wood.
She said the difference between last year's and this year's estimates of badger numbers in the cull zone was "very large by the standards of normal fluctuations in badger numbers".
They "did not see fluctuations of the magnitude claimed for the Somerset and Gloucestershire cull zones" at Wytham Wood, Prof Woodroffe told the BBC.
"I think it would be extremely unusual for such a decline to occur through natural causes - especially over such large areas.
"Two possible explanations for the difference in numbers relate to problems with the estimation methods (which are rather opaque and have been subjected to interference by protestors), and to the possibility of illegal killing.
"I don't think there's any way to distinguish between these two with the publicly available information, but I'd think either was more likely than a natural decline," she added.
'No evidence'
Robbie McDonald of the Environment and Sustainability Institute at the University of Exeter said it is hard to discern in any wildlife survey the degree to which observed change is due to genuine population change or error in estimates.
He told BBC News: "In general, any estimate of a wildlife population comprises genuine change in that population and then error in population estimations. So there's both of those two things."
Defra said in a statement that population estimates for Woodchester for 2013 are not available, and it would not be possible to carry out a comparison between Woodchester Park and the cull areas because the sizes of the areas are so different.
"Fluctuations in numbers of wildlife populations occur for a range of complex reasons that it is difficult to assess," said a spokesperson.
"We are not speculating on the causes for the drop in the badger population."
A spokesperson for the NFU said: "The NFU has no evidence of the illegal killing of badgers. The NFU does not condone any illegal activity that results in the killing of wildlife.
"Anyone with any evidence of the illegal killing of badgers or any other wildlife should report it to the police wildlife crime unit so it can be investigated."