Five-fold rise seen in UK landslides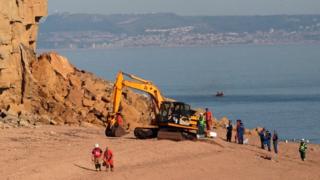 Over the last 14 months there has been a five-fold increase in reported landslides in the UK, scientists say.
The British Geological Survey (BGS) has over 16,000 records of landscapes, used to compare variations over time.
In one month alone - December 2012 - there were 75 UK landslides, compared with a typical annual average of 60.
The link between heavy rainfall in 2012 and landslides in the same period was reported at the British Science Festival in Newcastle.
"We saw significant increases, particularly in July 2012," said Dr Helen Reeves of the BGS. Extreme weather seems responsible for a huge increase in slope destabilisation, following changes in water loading in the rocks and soils of saturated land, she reported.
The Met Office has released the annual rainfall data for 2012, the second wettest year on record.
Dr Reeves explained how comparing this with the reports of landslides in the same period it appears that about two fifths of the landslide events happened in soil and rock near the surface soon after a short burst of heavy rainfall, but the build up of rainfall over the two months preceding a landslide seems responsible for the deeper landslides making up the remaining three fifths.
Data trawl
One problem that geologists face is the difficulty in obtaining accurate records of landslide events, especially in more remote areas. To help provide a better picture of changes in landslide frequency and location, the BGS have launched a public web site where anyone can report a landslide that they come across.
The BGS are now developing a database of landslide risk for the UK, which will be important in being prepared to respond and engineer transport systems for resilience against landslide disruption.
In the last year, four people lost their lives to landslides in the UK. Last summer, landslides along the north east coast of England closed the East Coast Main Line railway.
Road, rail and telecoms are all potentially vulnerable to landslides. In certain cases critical infrastructure such as dams may be at risk. The direct and indirect economic costs of last year's events are as yet un-quantified.
The worst recent landslide event in the UK was the Aberfan disaster of 1966, with over one hundred children killed. Across the globe, thousands of people are killed by landslides each year.
Changes in land use as well as the frequency of extreme weather events may affect the likelihood of landslides occurring in the future, but unpicking the exact links should become easier with the acquisition of better data, as hoped for in the BGS project.