Bob Geldof set to travel into space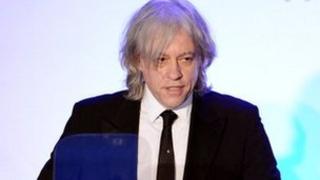 The singer and campaigner Bob Geldof is to travel into space as a passenger on a commercial space flight.
Space Expedition Corporation (SXC) is hoping to launch 100 people into space in 2014 at the cost of $100,000 (£64,000) per ticket.
The first astronauts will travel 100km (62 miles) into space launching from Curacao in the Southern Caribbean sea.
Others who have already signed up include DJ Armin van Buuren and Victoria's Secret model Doutzen Kroes.
Mr Geldof said: "Being the first Irishman in space is not only a fantastic honour but pretty mind-blowing.
"The first rock astronaut space rat! Elvis may have left the building but Bob Geldof will have left the Planet! Wild! Who would have thought it possible in my lifetime."
The passengers will travel on the Lynx X2 privately built spacecraft. which has a two-crew cockpit offering the passenger a "a true co-pilot astronaut experience".
Mr Geldof will be undertaking his first step of training in the space flight simulator based in the Netherlands this coming weekend.