Prehistoric Europeans spiced their cooking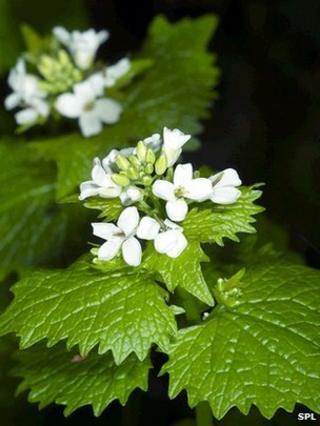 Europeans had a taste for spicy food at least 6,000 years ago, it seems.
Researchers found evidence for garlic mustard in the residues left on ancient pottery shards discovered in what is now Denmark and Germany.
The spice was found alongside fat residues from meat and fish.
Writing in the journal Plos One, the scientists make the case that garlic mustard contains little nutritional value and therefore must have been used to flavour the foods.
"This is the earliest evidence, as far as I know, of spice use in this region in the Western Baltic; something that has basically no nutritional value, but has this value in a taste sense," said Dr Hayley Saul, who led the study from the University of York, UK.
The researchers looked at charred deposits found on the inside of pottery shards that had been dated to between 5,800 and 6,150 years ago.
These deposits contained microscopic traces of plant-based silica, known as phytoliths, which can be used to identify the plants from which they came.
It was these phytoliths that provided the evidence of garlic mustard (Alliaria petiolata) in the carbonised scrapings.
The team found more phytoliths from residues taken from the inside of pots than from the outside, which they say shows that these were the direct result of culinary practice.
The implications from these findings challenge the previously held belief that hunter-gatherers were simply concerned with searching for calorific food. Dr Saul believes these latest results point to something much more like cuisine.
"That's quite a new idea for hunter-gatherer archaeology in Europe," she told BBC News.
The York scientist said it was likely that prehistoric chefs would have crushed the seeds: "Actually to get the flavour out you have to crush it really. I suspect that if they hadn't been crushing the seeds, we would probably find more intact seeds in residues."
Although this is the first evidence of spice use in Europe, flavouring food may have been a common practice in the Middle East much earlier. "There's a cave in Israel where coriander has been found, and that's dated to around 23,000 years ago. But it's very difficult to build up a picture of exactly how it's used. It's linking it to cooking that's quite important," explained Dr Saul.
It seems that while prehistoric cuisine was flavoursome, it was far from varied. The researchers found no evidence for other spices, with the phytoliths being quite consistent across the sites they investigated.
"I think it was just really creative, and we often don't give hunter-gatherer cultures in the past credit for exactly how inventive and creative they were with things.
"It's often seen as being a period of culinary hardship where people were really struggling, but actually, its people really knew their environments, and knew how to make the best with what they've got. I think they were very clever, really," said Dr Saul.