Fracking: RSPB objects to Cuadrilla plans for two sites
By Roger Harrabin
Environment analyst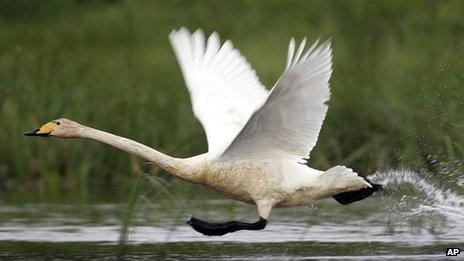 The RSPB has lodged objections to proposals to drill for shale gas and oil in Lancashire and West Sussex.
The bird charity says regulations are inadequate to ensure water, landscapes and wildlife are protected.
But Cuadrilla, which is exploring the sites, says its activities will not harm birds or other wildlife.
On Monday, Prime Minister David Cameron urged the UK to back fracking, which involves shattering shales to release trapped gas.
These are the first formal objections to fracking from the RSPB, and they concern a drilling proposal at Singleton in Lancashire, 0.8 miles (1.2km) from an internationally important area for pink-footed geese and whooper swans.
The society is also protesting against drilling at Balcombe in West Sussex on the grounds that no environmental impact assessment has been carried out.
Harry Huyton, from the RSPB, said: "Singleton is on the doorstep of an area that is home to thousands of geese and swans, which will arrive from as far away as Siberia to roost and feed next month and stay for the winter.
"There may not be as many local residents as in Sussex, but this area is protected by European law because it is so valuable for wildlife, and Cuadrilla has done nothing to investigate what damage their activities could do to it."
The charity believes there could be 5,000 sites and a total of up to 100,000 wells in the North of England.
"The idea that these will have a benign impact on the countryside is very difficult to believe," Mr Huyton added.
When asked whether swans were so sensitive as to be disturbed by industrial activity nearly a mile away, an RSPB spokesman said: "If Cuadrilla did their assessments and found there wasn't a serious concern, we'd accept that.
"But no assessments have been done. This is all in too much of a hurry – the regulations simply aren't in place."
The group's other main objection is that a push for shale will divert funds and attention from the UK's push towards an electricity system almost completely powered by clean energy by 2030.
If studies prove that fracking does not leak methane into the atmosphere, then shale gas will indeed be much less polluting than coal.
But the Environment Agency's Chris Smith said an expansion of gas for power generation was only compatible with legally binding climate targets if technologies were fitted to remove the carbon emissions from the exhaust.
So far, the government has given no commitment to that.
Supporters of shale gas accuse environmentalists of inconsistency for objecting to shale gas sites "despoiling" the countryside whilst tolerating wind farms, which have a far greater visual impact with less energy output.
The RSPB says it focuses on the impact on birds. It has joined objections to several wind farm developments recently on the grounds that they might harm birds, but its conservation director, Martin Harper, says a large body of scientific evidence shows "appropriately located windfarms have negligible impacts" on bird populations."
A Cuadrilla spokesperson said: "Our activities have not and will not harm birds or other wildlife.
"A comprehensive Environmental Impact Assessment (EIA) is being prepared by independent consultants to accompany a planning application for Cuadrilla's exploration site at Grange Hill, near Singleton.
"The EIA considers a wide range of environmental topics, including the potential effects of the proposed exploration activities on habitats and wildlife."
Related Internet Links
The BBC is not responsible for the content of external sites.