GM rice approval 'edging closer'
By Charlotte Ashton
The World Tonight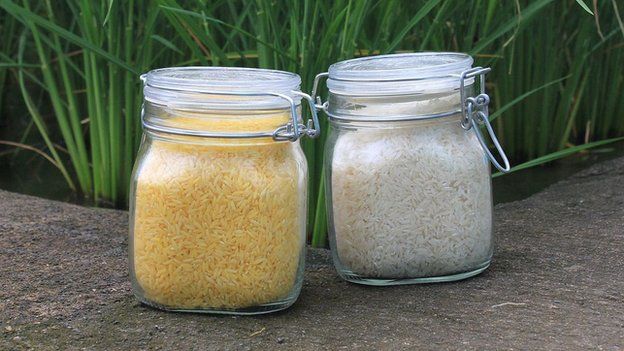 Scientists in the Philippines are weeks from submitting a genetically modified variety of rice to the authorities for biosafety evaluations.
They claim it could be in the fields within a year, but national regulators will have the final say.
Supporters say it will help the 1.7 million Filipino children who suffer vitamin A deficiency - which reduces immunity and can cause blindness.
But campaigners say "Golden Rice" is a dangerous way to tackle malnutrition.
They say that it threatens the Philippines' staple food.
The fields at the Philippine Rice Research Institute (PhilRice), in Nueva Ecija, just north of Manila, look just like the other thousands of rice paddies that make up the Luzon landscape.
Apart from the tall fences surrounding them, you would never guess they were being used to grow rice that had been genetically modified to produce beta-carotene.
The body converts beta-carotene into Vitamin A and scientists estimate that one cup of Golden Rice could provide up to 50% of an adult's recommended daily intake.
The rice has been engineered so that the precursor chemical is expressed in the edible grain as well as in the non-edible leaves, where it occurs naturally.
It has taken scientists more than two decades to boost the beta-carotene in Golden Rice to meaningful levels. But Dr Antonio Alfonso, who leads the project at PhilRice, says the product is now ready.
Speaking to the World Tonight programme, he said: "My increased confidence comes from the fact that... our data, aside from being mostly available now, are as expected and, therefore, unlikely to raise new questions or concerns on the part of the regulators.
"But we have to recognise people's fear. That's exactly why we have regulation for establishing safety: food safety feed safety, environmental safety, safety to humans, safety to animals, these are all considered in our current regulatory system in the Philippines."
The stakes are high. Rice is by far the most important crop in the Philippines, with the average Filipino eating 100kg (dry weight) per year.
Two thirds of households don't eat enough to meet their dietary energy needs, and most of the calories they do get come from rice.
Anti-GM campaigners fear Golden Rice threatens the nation's food security, through as-yet unknown long-term effects on natural varieties resulting from cross-pollination.
Daniel Okompo, sustainable agriculture campaigner for South East Asia at Greenpeace says rice is too precious to tinker with: "Golden Rice is one of our biggest battles to date mainly because it's our staple. Rice is eaten by more than half of the world's population every day.
"And if you have Golden Rice out there or any genetically modified rice that will eventually contaminate our rice varieties, this is a very big problem, especially for the farmers who don't want to plant [GM] rice," he said.
"We don't know how this variety will evolve and that's why we think it should be contained in laboratories."
Mr Okompo advocates more government spending on their Organic Agriculture Programme. In fields outside the town of Tayabas in south Luzon, Dr Chito Medina, national coordinator of charity MASIPAG, is working with farmers to improve the diversity of their crops using organic growing techniques.
He argues that a more diverse harvest contains naturally high levels of Vitamin A and other nutrients, making Golden Rice redundant.
"Malnutrition is a broader issue, therefore the solution needs to be broader also," he explained.
"The more important thing is alleviating poverty, providing more diverse seeds to farmers so they can grow more diverse crops and having more diverse food and a more balanced diet. Then there would be no vitamin deficiencies at all.
"There are so many natural sources of Vitamin A, especially in tropical countries: almost all green and leafy vegetables, yellow vegetables and fruits like mangos and cantaloupes."
Dr Medina added: "We have a variety of sweet potato which has five times the level of Vitamin A than there is in Golden Rice. Ecologically, this is more sustainable and it's the way agriculture should be in the future.
"Economically, it generates more income for farmers because there are fewer expenditures: they don't have to buy chemical pesticides, fertilisers or seeds."
The Philippines government has no official position on Golden Rice, pending the results of the forthcoming tests. Through mandatory fortification of flour and voluntary fortification of widely-consumed, cheap products like instant noodles, they've already reduced Vitamin A deficiency from 40% of the population in 2003 to 15% in 2008.
But Jovita Raval from the National Nutrition Council says the authorities "welcome any strategy that can help with the reduction of malnutrition especially micronutrient deficiencies".
At the International Rice Research Institute (IRRI) in Los Banos, south of Manila, where much of the development of Golden Rice took place, Bruce Talantino, its deputy director-general, accepts that it is only one of a variety of strategies for dealing with Vitamin A deficiency.
But he says Golden Rice is still the superior solution: "The problem with the usual attempts to deal with Vitamin A deficiency, which is to provide supplements is that it's a never ending expense. They eat rice every day and farmers will grow this rice the same way and they will sell it in the same way," he said.
He rejects allegations that the true purpose of Golden Rice is to serve as a poster boy for an unpopular industry. Agribusiness giant Syngenta funded much of the research, but Mr Talantino says they don't stand to profit from fields of Golden Rice.
"They have given up the rights to making any money from it. They have signed off their commercialisation rights and given us the license. We're not doing this for glory, we're not doing this for money," he said.
"IRRI is a non-profit institution, which is meant for research for the benefit of mankind, always funded by public and government funding. And we'll continue to do that for as long as we exist."
Charlotte Ashton's report will feature on BBC Radio 4's The World Tonight on Tuesday 6 August.