Alphasat: 'Space A380' to start in-orbit tests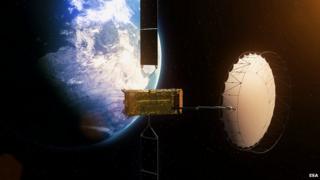 Europe's biggest ever commercial telecommunications satellite is ready to begin serious testing ahead of its entry into service.
Alphasat, which was launched 10 days ago on an Ariane rocket, is now at its operational altitude and, critically, has deployed its huge 11m antenna.
Engineers intend shortly to switch on the 6.6-tonne spacecraft's new sophisticated communications payload.
Alphasat will relay traffic for mobile satellite services company Inmarsat.
The London-based operator's customers include the big broadcasters like the BBC, shipping concerns, the oil and gas industry, airlines, the armed forces, and other groups that need on-the-go connections in remote areas.
Alphasat was confirmed in a stable, Earth-pointing configuration late on Sunday.
"We'll start the in-orbit testing over the next few days," said Franco Carnevale, Inmarsat's vice president for satellite and launch vehicles.
"I expect us to start testing the payload on the 13th, 14th, or 15th of August at the latest," he told BBC News.
The satellite is the product of a major public-private partnership involving the British operator and the European Space Agency.
Alphasat incorporates a host of new technologies and represents the first flight of a new heavyweight class of chassis, or bus, that will allow European manufacturers to make telecoms spacecraft weighing up to 8.8 tonnes with a power output of 22kW.
This has led some to refer to the Alphasat design as the "A380 of space".
Following its 25 July launch, the satellite had to be raised to a geosynchronous orbit 36,000km over the equator. This involved four lengthy burns on its apogee engine, consuming nearly three tonnes of propellant. This is equivalent to the full tanks of approximately 50 medium-sized cars.
At the end of last week, controllers then began the delicate process of deploying Alphasat's antenna/reflector.
This enormous structure was folded for launch and its parts had to be "barbequed" to achieve an even, not-too-hot, not-to-cold temperature before unfurling in space. This meant slowly rotating the spacecraft in the sun. The moment of full blooming was achieved on Saturday.
"It was a tense two days," conceded Mr Carnevale. "The last time the antenna was tested on the ground was March."
Alphasat is now drifting along the equator arc. Its eventual destination is an orbital slot at 25 degrees East. Once there, Alphasat will assume the duties of an Inmarsat-4 spacecraft, but with considerable extra capability thanks to its novel digital signal processor.
This can channel significant bandwidth and power on to specific locations on the ground at very short notice, ensuring Inmarsat's L-band radio-frequency allocation is used in the most efficient way possible.
In addition to its commercial role, Alphasat will demonstrate a number of technologies for the European Space Agency.
The most noteworthy of these is a laser-based communications system that will form the basis of Europe's forthcoming orbital data relay system. This has been developed to permit gigabit connections between Earth observation satellites and the ground.
Alphasat will validate the laser terminal by downlinking pictures from the EU's Sentinel-1a radar spacecraft when it launches next year.