German tariffs make green energy too expensive to store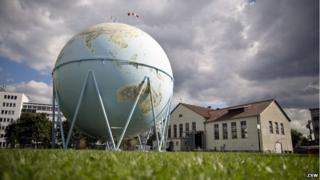 Researchers in Germany who are working on ways of storing renewable energy say their plans are being hampered by feed-in tariffs.
The subsidies have encouraged thousands of householders to become energy producers by investing in solar and wind power.
But one leading scientist told the BBC that these same tariffs make efforts to store green electricity uneconomic.
Solving this problem he says is key to the success of sustainable energy.
Germany introduced a system of feed-in tariffs for solar, wind and other renewable technologies back in 2000. The law guarantees access to the grid and a subsidy payment for 20 years.
There are now 1.3 million households, farmers and small co-operatives providing green energy. In 2012 they supplied 22% of the country's electricity needs.
But the growth of renewables has been hampered by the intermittent nature of the sun and wind.
On a bright Sunday in June this year, solar and wind provided 60% of Germany's power needs. So much solar was being produced that wholesale prices were for a time in the negative.
Gas to the grid
With the German government accelerating the phase out of nuclear in the wake of the Fukushima disaster, finding a way of storing excess renewable energy is seen as a crucial for the success of the Energiewende, as the energy transition is called.
One of the most promising technologies is a system called Power-to-Gas, which converts green energy into both hydrogen and methane. The technology has been developed at the Centre for Solar Energy and Hydrogen Research (ZSW) in Stuttgart.
Electricity from the grid drives a process of electrolysis that creates the hydrogen and oxygen from water. Carbon dioxide is then added to the hydrogen which creates synthetic methane that can be pumped into the gas distribution grid. It can be used for heating or to make electricity.
According to the scientist behind the technology, Power-to-Gas has some major advantages over other ideas that are being tested.
"If you want to store energy over a long time, then I think a chemical energy carrier is the only option," Dr Michael Specht told BBC News.
"The other ideas such as pumped water or large batteries, typically have storage times of one or two days - but with this system we have storage times of weeks or months."
Dr Specht said that the technology offered the best hope for utilising renewable energy in transport.
"It is a complicated situation, but I think there is no other solution to renewable energy storage and mobility - it is the only way we can go."
But he says there will have to be some significant changes to the incentive schemes that have resulted in a booming renewable sector in Germany. He argues that the feed-in tariff that is paid to all producers of green electricity make it too expensive to store their products.
"These costs are normally for the consumer, but what we are doing is not the consumption of electricity but the storage - and if we store it we should not pay the costs that the end consumer pays," he said.
"Under the current frame conditions the system is not economic."
Dash for gas
One potential for Power-to-Gas is in the transport sector.
Based on the experiments carried out in Stuttgart, car manufacturer Audi inaugurated the world's first industrial scale Power-to-Gas plant at the end of last month.
This is a six megawatt facility that Audi use to create gas for use in cars. They believe the energy created at this facility will power 1,500 new Audi A3 vehicles for 15,000km of carbon neutral driving every year.
"The same amount that I fill in my car tank, is fed into the grid by the car company Audi - it is sustainable mobility," said Dr Specht.
There are a number of alternative storage projects being pursued, including large scale lithium electricity storage systems. The German government has also recently allocated 50m euros (£43m) for the development of solar power storage schemes.
But some economists are critical of the development because they believe it will distort the market even further.
Dr Felix Matthes from the Oeko Institute is one of Germany's leading thinkers on the energy transformation. He says that power storage should only be the last resort.
"I am not in favour of such programmes," he told BBC News. "The power will not be stored when most cost efficient from the network's perspective but most attractive from the producer's perspective."
With renewables set to play a major part in Germany's energy mix going forward, politicians are likely to attempt some reform of the Energiewende, after the general election in September.
Dr Specht says the reform can't come soon enough. Without it, the whole transition could fail.
"I think it is a process to go to sources which are completely renewable but I think it is not possible without storage," he said.
Follow Matt on Twitter.