UK dips its toes into revised bathing water directive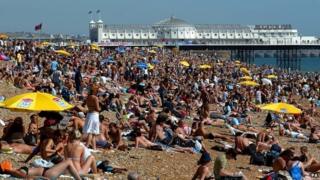 The arrival of the sunshine makes taking a refreshing dip in the sea very tempting indeed.
However, predictions suggest that changes in the way bathing water quality is measured mean that such a traditional summertime treat at more than 50 sites in England could be ill-advised.
But it does not mean that water quality has changed - the overall trend for the UK is a dramatic improvement, but how it is classified will change from the end of 2015.
The way water quality is measured and how the data is presented to the public are shaped by the EU Water Directive.
The 1976 legislation was revised in 2006, and this revision included a change to the way bathing water quality was assessed and communicated.
Christine Tuckett, the Environment Agency's head of bathing waters, said: "The science has moved on - the standards we have been using up until now are based on regulations that came into force in 1976.
"Since then, more studies have been looking at what the best indicators of bathing water quality or water pollution are.
"We are measuring bacteria in the water. We measure E. coli and intestinal enterococci, which are indicators of bacteria in bathing water," she told BBC News.
"We have also got better information on better ways to inform the public, and there are more requirements (in the new directive) around that, which I think are positive."
Ms Tuckett said that data from the past 20 years showed that the quality of bathing water had "improved dramatically" as a result of a number of factors, such as investment in the infrastructure by water companies.
Testing times
Traditionally, the main source of pollution came from untreated sewerage being pumped into the sea.
But improvements in the infrastructure to treat wastewater has reduced this as a source. However, experts list agricultural run-off, urban storm-water and faeces from birds and animals on beaches as contributing factors.
In terms of monitoring, Ms Tuckett explained that the responsible agencies collect samples between mid-May and the end of September.
"We monitor on a regular basis - 20 times a year at every designated bathing water site," she said, providing the agency with about 8,300 samples of water quality each year.
"This means that you build up a really good record from every [site] and you have got that information about how the quality is changing.
"This gives us information about where we need to take action to try and improve bathing water quality."
Ms Tuckett added that the sampling is complemented with further scientific investigations.
"We have been doing things like DNA analysis of samples. If you are looking for bacteria, you are looking at sewerage - human and animal.
"If you are looking at solving a problem like pollution then you need to know where it is coming from - basically, who is the culprit.
"Those sorts of investigations have really helped us to pinpoint the problems and encourage action to be taken."
Clearer picture
The revised standards, said to be twice as stringent as the existing requirements, issue the classification based on four years' worth of data - 80 samples rather than 20.
Ms Tuckett said the revised classification offered greater consistency, leading to a more reflective picture of the state of the bathing water.
"In some cases you might have some bathing waters that have experienced a freak year," she explained.
"Would you want lots of investment and lots of action taken when it is 'out of character'? The new standard means that the actions you do take are based on what that bathing water is normally like.
"This means that you are more certain that the action you are taking is more worthwhile."
According to figures from the European Environment Agency, 36 bathing waters in the UK failed to meet the EU directive's mandatory standard during 2012.
Under the revised directive, the quality of the water in each area would be classified as either excellent, good, sufficient or poor.
Predictions from the Environment Agency, using current data, 55 waters in England and Wales alone would be classified as poor, meaning that people would be advised against bathing in the water.
"For those waters that we think would fail or would be at risk of failure, we have action plans in place for all of them," Ms Tuckett explained.
"Those action plans contain data on what we think are the potential sources of pollution and they also allow us to go out and talk to local authorities, farmers, local groups and water companies to try and drive them to make improvements.
Turning the tide
One area that faces a challenge to meet the revised standards is the north-west coastline around Blackpool.
In order to improve the area's bathing water quality, a partnership involving the Environment Agency, local authorities, a water company and local groups was set up in 2012.
Lee Bryce, United Utilities bathing water manager, said: "The Environment Agency's research suggests that only 30% of pollution in the North West is caused by our sewers, so sewer improvements alone won't solve the problem.
"That is why United Utilities is working in partnership with other organisations across the North West to meet the challenge of the new directive and look at ways of stopping all of the different sources of pollution getting into the sea," he told BBC News.
"It is important to recognise the huge improvements that have been made in recent years in the North West. In 2012, 82% of our bathing waters passed the required standards, compared with only 15% in 1988."
Despite some of the challenges presented by the revised directive, Ms Tuckett concluded: "We are positive because the directive brings in more requirements for providing information to the public, which I think is a really good thing as it enables people to make an informed choice."