Maps offer insight into UK bat distribution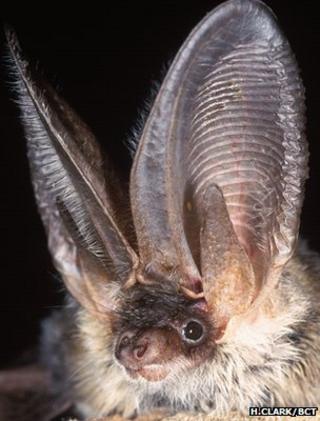 More than 15,000 bat recordings in the Lake District have helped researchers produce the first detailed, large-scale bat distribution maps in a UK region.
The team said it could help planners understand how developments could have an impact on bats, which are protected.
Bats, which can live for 20 years or more, are considered to offer an effective indication of the general health of an area's wider environment.
The findings have been published in the Journal of Applied Ecology.
"Once we had the maps, rather than just the raw data inputs, it told us a great deal about the bats," explained co-author Chloe Bellamy from the University of Leeds.
"It told us about the distribution across the (Lake District) National Park and we found out some things about species that we did not really know.
"For example, there is a big, fast-flying bat called the noctule and we did not know that it tended to avoid high altitudinal areas (250m above sea level or higher).
"Once we had built a Habitat Suitability Map, we were able to see this straight away."
The researchers suggested the open-air foraging bat may be more sensitive to lower temperatures and stronger wind, which more frequent at higher altitudes.
The result of recent work of co-author Dr Chris Scott, who developed software that was able to identify individual species from their echolocation calls, was an important development, Dr Bellamy said, because most myotis bats (largest and most widely distributed group of bat species) had very similar calls, which were very hard to distinguish.
"We actually would not have been able to produce the maps for the separate myotis species a few years ago but, with the help of Chris's software, these species-specific maps have been able to provide really important insights into these species' requirements."
Dr Bellamy explained that the maps provided an index rating of habitat suitability for each species down to a resolution of 50m sq "ranging from zero that meant it was not very suitable up to one, which meant highly suitable".
The maps also showed, for example, that there was quite a difference between similar species such as the UK's two pipistrelles, which until the 1990s were thought to be the same species.
"For instance, we found that the soprano pipistrelle was associated where there were large areas of water," she told BBC News.
"Whereas the common pipistrelle was more of a generalist species and one that we found closely associated with quiet, country lanes."
Dr Bellamy acknowledged that there were not particularly large urban areas within the national park boundaries.
"But once you got into the more built-up areas the maps showed that they seemed to be avoided by quite a few species," she observed.
"Finding these effects in the relatively small urban areas makes it interesting to think about scaling this up to large urban areas and the effects this would have on bat species."
She added: "The maps are really useful for practical conservationists because they can be used in a huge number of ways.
"First of all, when you overlay all of the maps, you can immediately see the hotspots that are really good for bat activity and should be conserved."
Dr Bellamy explained that the Yorkshire Wildlife Trust had used it when they looked at planning applications and seeing what the maps of the Yorkshire Dales predicted.
North York Moors National Park was also planning to use the maps, she said.
"For example, if you were thinking about planting a woodland, you could then re-run the model to see what sort of impact a woodland in that location would have on habitat suitability for bats," she suggested.
As well as producing eight species-specific Habitat Suitability Maps for the Lake District National Park, the team had also compiled similar datasets for four other areas in northern England, including the North York Moors and Yorkshire Dales national parks,
This summer, the team were planning to collect data in Northumberland National Park and the North Pennines Area of Outstanding National Beauty (AONB).