Europe's Ariane rocket sizes up for competition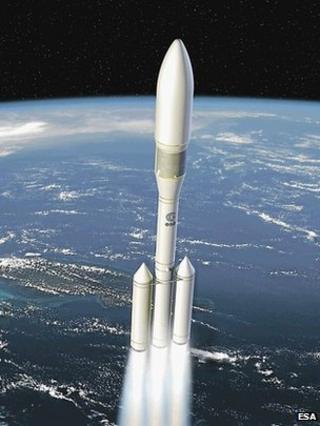 A report from industry on the design of Europe's future rocket, Ariane 6, will be delivered in the next few weeks.
Astrium, which leads the manufacturing team on the current Ariane 5, will detail an architecture for a new vehicle it believes can be made at substantially lower cost.
This is seen as essential in the face of growing competition from the US.
It will require not only using new production methods, but probably also a big reorganisation of industry itself.
"For me, the key question for Ariane 6 is not really the design - how many boosters and what will be the size of each and every booster; and of course, we work on that. No, the key question is how to organise relationships between industry and agencies, in order to deliver a launcher to a given target price," observed Alain Charmeau, the CEO of Astrium Space Transportation. This price is about 70-75m euros.
"And to be clear, we should not be naive. If we need to reduce the cost by 40% or 50%, it means reducing the number of people. About 80% to 90% of the cost of a launcher is hourly rates - it's manpower. So if you want to reduce the costs, you have to deliver the launcher with fewer people."
Mr Charmeau was describing the future landscape for Ariane here at the Paris Air Show in Le Bourget.
Raised game
The current Ariane 5 dominates the global commercial launch market for large satellites.
More than half of the big platforms sent up to provide the world with TV, phone and internet services are lofted by the European vehicle.
But change is sweeping through the industry in the form of SpaceX of California, which has been seeded by the US space agency Nasa to provide low-cost launch services in America. And the company is now taking its technology international, offering launch services at prices that undercut the established competition. Although SpaceX's Falcon rocket has yet to launch a large commercial telecoms platform, the existing players know they have to react or risk losing many of their traditional customers.
"Yes, we are moving because of the competition, just as in the car industry or the aircraft industry," said Mr Charmeau. "We are entering into a more and more competitive world in terms of launchers."
Ariane 6 is regarded as Europe's ultimate response.
Mr Charmeau says Astrium is zeroing in on the final concept, having eliminated a number of ideas. The broad outline, however, seems clear.
The 6 will comprise lower-stages powered by solid-fuel motors, and an upper-stage that uses cryogenic liquids (hydrogen and oxygen). Composites will be chosen for lightness and strength, and all systems must use substantially fewer parts. Complexity needs to be reduced.
'Fatter' satellites
This is certainly the case for the design of the upper-stage, known as Vinci, which is already far advanced and will be introduced as soon as possible to the existing Ariane 5 in a "mid-life evolution" of the rocket that will give it greater performance.
Vinci will help raise the 5's lifting capacity to more than 11 tonnes, enabling the rocket to more easily mix and match the different classes of satellites it carries to orbit.
The usual practice is for Ariane to launch two satellites at once - one large platform, up to 6.5 tonnes - and in future, a second one approaching five tonnes.
The hope is this will maintain the European rocket's attractiveness, especially if - as many suspect - new electric satellites become popular.
These spacecraft use ion thrusters to finalise their orbits once they come off the top of the rocket. These propulsion systems are more efficient (using less fuel) than their chemical forebears, saving large amounts of mass that can be given over to bigger and more powerful telecommunications payloads.
The expectation is that the platforms could be "fatter" as a result. They may have larger solar arrays to satisfy their increased power needs, and perhaps even more extensive cooling systems. In any case, it seems likely that telecoms antennas may get bigger as well.
All this is forcing the rocket companies to address not just their mass constraints but also the payload volumes they can offer satellite customers.
Quality first
"In the past, satellite manufacturers very much organised their payloads around the [chemical propulsion] tanks," said Eric Beranger, who heads up Astrium's satellite production division. "If you don't have the tanks anymore, you can have very different approaches on how you fit your payloads. It will open up opportunities because it will give you a new freedom in the way you architect your satellite."
Ariane 5 will likely meet this challenge by putting a ring under its fairing - the clam-shell covering that protects the satellite during the early part of the ascent through the atmosphere. This will increase the height of the fairing, and the available space inside, by 1-2m.
International Launch Services (ILS) is presently Ariane's chief rival. The US-Russian operation sells the Proton vehicle. The Baikonur-based rocket launches most of the big telecoms satellites that Ariane does not. Proton, too, is undergoing a series of improvements, including a widening of its fairing, says ILS president Phil Slack.
"Today's version of Proton currently being flown has a lift capability of 6.15 tonnes to geostationary transfer orbit, and there is what we call a 'phase four' development that will lift this capacity by another 200kg, and it will fly in 2014. Significant investment is also being made in a 5m diameter fairing which will support customers' desire for larger spacecraft due to larger antennas/reflectors. We've been competitive and we plan to stay competitive into the future," he told BBC News.
As is always the case in rocketry, the most important prerequisite is reliability. A launch failure is extremely damaging to market confidence.
The Ariane 5 has now completed 55 consecutive successful missions, but Proton is having to fight back from a number of mishaps that have prompted a whole-scale review of the production process at manufacturer Khrunichev.
"We now have mandatory photographing and videotaping of critical operations on the production line," Khrunichev director general Alexander Seliverstov told BBC News.
"All products that come from the Khrunichev assembly line have to come with a level of quality to accomplish mission success. We understand very clearly that if we want to keep market share, if want to keep any customers, quality has to be number one."