Secret life of the cat: Your feline tales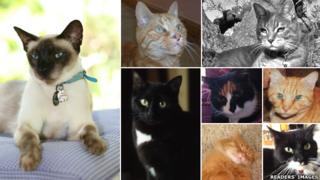 BBC Two's Horizon programme on the Secret Life of the Cat and our accompanying interactive feature prompted an enormous response from viewers and website readers.
The Horizon team - aided by the Royal Veterinary College and Lincoln and Bristol Universities - tracked dozens of cats using specially-designed GPS collar devices and tiny "cat cams" as part of one of the largest ever research projects into domestic cat behaviour.
The experiment's results - broadcast last week - revealed how cats appeared to be timesharing territory to avoid confrontation with neighbouring felines. The study also suggested cats were becoming increasingly domesticated, visiting each other's houses rather than roaming large distances and hunting.
Here, readers tell the stories of their own cats' antics.
CAT: Clive
OWNER: Juliette Wring, Nailsea, North Somerset
You don't need GPS and cameras to know what your cat gets up to when you have a cat like Clive. He is a wanderer and appears to have no fear. He has only been kept by us because of a collar which not only gives his name, address and telephone number but a message stating "Get me home". So for the past four years, I have spent much of my time collecting him or having him delivered home.
He is infamous in our neighbourhood. The schoolchildren love him and the dogs in the park are totally baffled by him. I have collected him from over 100 locations, both residential and commercial. He has visited and been collected from the vets, the nursery, the school, the station a-mile-and-a-half away, various pubs, shops - including Tesco and Costa - the petrol station, the park, the fair, puppy training classes, the dog show, the leisure centre, to name but a few.
He has come home with coloured feet (after an encounter with teenagers) and has been responsible for a broken arm (a little boy learning to ride a bike got overexcited to see him) and for a referee having to stop a football match in the park. He has also been found in my daughter's maths class (to the children's delight), attended drill at the cadets and set off a security scare in middle of the night at the local flower show tent.
CAT: Scamp
OWNER: Colin Clark, Reading, Berkshire
Our black cat Scamp went missing - one of a pair of inseparable brothers. A neighbour said they saw a black cat jump into the back of a delivery lorry. We contacted the delivery company and the driver said that a black cat flew out, past his ear, at his next stop - Chipping Norton (50 miles away) - and ran off into gardens.
We spent long evenings and weekends in Chipping Norton searching for him, but eventually and very sadly gave him up for lost. A week or so later, he trots in through our cat flap apparently none the worse for wear. We can never be certain that he made that journey, but it's heart-warming to think that he did.
CAT: Nimbus
TEMPORARY OWNER: Bob Foster, Biot, France
Nimbus is the adored cat of my daughter and he came to stay with his cousins, my four cats and two dogs (as he has done in the past many times) whilst his parents left for a week in England. We live around 9km apart. Two days into his stay, Nimbus decided that he no longer liked collective life, and our female Maine Coon, Dixie, was giving him grief. He disappeared.
Three days of printing and distributing posters and photos, calling him and rattling the "munchie" tin came to no avail. I had to break the news to my daughter before she returned home - a cold frosty reception awaited me at the airport.
Next morning, as [my daughter] was eating breakfast, crying into her cornflakes, the cat flap went and in walked Nimbus. He'd been away for six days. He washed himself, ate a bowl of cat nuts and settled down to sleep for three days. His journey had to have taken him across a river, a stream and four main busy roads.
CAT: Henry
OWNER: Fiona Potter, Billericay, Essex
In 1986 we moved from London to Billericay bringing with us our two cats Penny and Henry. Penny had found Henry as an almost dead young cat and brought him home to us to care for. He proved a real character and, after settling into our new home, Henry quickly became a dominant male in the area.
His strangest habit was to leave the house in summertime, walk to the nearest main road and get on the bus. This was no ordinary bus, however, but a circular route that started and ended at Henry's stop. Between circuits, the drivers used to open the door, check for lost property and generally make sure everything was OK before starting their next run. At that point, Henry would board, taking a seat at the back and getting to know the passengers during the route.
When he had [done] the [route] a couple of times he would then disembark, and wend his way home! No-one seemed to mind, but the drivers used to try and get him off. Most people said to leave him as he knew where he was. When we still lived in London he used to follow me to work and sit under my desk as I worked at the local solicitors. He was much missed when he eventually passed at the grand old age of 20.
CAT: Bramble
OWNER: Anna Clifford, Norfolk
Our cat, Bramble, would pack his bags and disappear for the same week every single year... without fail! This often coincided with the family holiday, so we did wonder whether he was going in hunt of us. He died six years ago at the ripe old age of 18 and where he went each summer will always remain a mystery!
CAT: George
OWNER: Rebecca Lee, Brisbane, Australia
Our cat George, an 11-year old Siamese cross Devon Rex, doesn't venture far but he does constantly seek out company. We have a gym down the road where he visits regularly, entering the aerobic classes and weights room. He also comes back smelling of perfume and occasionally has lipstick on him.
We came outside our house one night to see him in "conversation" with two other cats - no fighting just sitting on the fence. The two other cats disappeared as soon as we were seen. He also appears to seek out kittens in the immediate area for playing with.
CAT: Amber
OWNER: Michelle Hodgson, Huddersfield, West Yorkshire
Our cat Amber is a rescue cat and she likes to come along when we walk the dog. She follows behind on the street and hides behind lampposts when you turn around. Then they play together in the park.
We know she goes quite a way as we often get calls from people (she has a tag) and have to go and pick her up in the car. One time, the local school called me as she wouldn't leave the playground and was "distracting" the kids.
The furthest she ever travelled was a mile away, crossing a busy road at some point. Fortunately, a cat lover found her and phoned us. She is also fearless and once biffed a Rottweiler on the nose. He retreated.
CAT: Paddy
OWNER: Shane James, Alexton, Uppingham, East Midlands
Paddy, nearly three, very pale Siamese, roams, hunts and regularly fights. Loves being with me. Very curious. Sufficiently so that he travelled on an empty furniture truck from home, via a delivery to Chesham Bois [Bucks], overnight stop in High Wycombe, to arrive 48 hours later in Liskeard [Cornwall].
The removal van was checked by the driver at the stopover in High Wycombe and I was told Paddy was definitely not with them. But the following morning I received a message saying a skinny white cat was found running around their yard in Liskeard. They finally caught him and he was kept in a packing box in the office and fed turkey steak until he was taken to a local cattery to prevent further escape. I was hugely relieved as he does spend every evening at my side when I'm home.
Paddy was eventually rescued by a lovely friend of my daughter's, Lyndon Ogbourne from Emmerdale, who bravely drove to Liskeard and back, to bring a very noisy Paddy home. A knight in shining armour!
CAT: Tiggy
OWNER: Valerie Christopher, North Walsham, Norfolk
Where I lived previously, Tiggy used to visit my neighbour's house through an upstairs window and drink the milk out of her Teasmade in the bedroom. How Tiggy found out about it, I don't know. It was only my neighbour waking one night and seeing her that they found out. She never visited them normally.
CAT: Rosie
OWNER: Gemma Hooper, Glasgow, Scotland
My cat Rosie went outside one sunny afternoon and returned three months later. On the day she went missing it was a very sunny day (for Scotland) and there were lots of people out on the street - BBQs, garden parties etc. I think she got scared and ran away. I looked for her and asked the neighbours to keep an eye out. She was reported missing to the SSPCA and I gave her details to the local vets.
Three months later I got a call from the SSPCA saying my cat had been found! She actually wasn't that far away, but had based herself in one of the more posh areas of the town! I brought her home and she came in and curled up on the sofa like nothing had happened. I had to de-flea the whole house.
Watch Horizon's Secret Life of the Cat on BBC iPlayer until Wednesday 17 July.
Compiled by Lucy Rodgers.