Europe's ExoMars missions 'on track'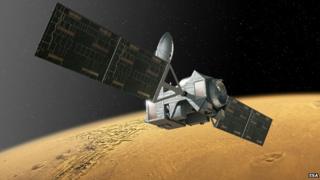 Europe's plans to explore Mars with a satellite in 2016 and a rover in 2018 have taken a big step forward with the signing of new industrial contracts.
The deals fully fund the orbiter, which will look for methane and other trace gases in the planet's atmosphere, and keep the mobile robot on track to meet its launch deadline.
Known jointly as ExoMars, the missions have come perilously close to cancellation on a number of occasions.
They now look much more secure.
"It will still be tough, I have to say that. But I am more confident than I have been in a long time that ExoMars will now happen," Prof Alvaro Gimenez told BBC News.
The director of science at the European Space Agency (Esa) signed contracts on Monday totalling 216m euros with the missions' prime contractor, Thales Alenia Space (TAS).
The majority of the funds, 146m euros, should ensure the Trace Gas Orbiter (TGO) is ready for launch in January 2016.
Money question
It should also guarantee the satellite's descent module is completed on time. This will be released at Mars to prove Europe's ability to land on the Red Planet.
And it will test critical technologies - such as radar and guidance systems - needed for the safe touchdown of the rover two years later.
Monday's deals, signed at the Paris Air Show, allocate a further 70m euros for the 2018 vehicle.
Much more will be needed to finish its construction, and Esa member states have yet to agree finally how to fund ExoMars' global budget, which is expected to top 1.2bn euros.
For the moment, however, the missions are on the right trajectory.
"ExoMars is on track today and we can all be very pleased with this result," said TAS CEO Jean-Loic Galle.
"For sure, I can tell you that Thales Alenia Space is fully committed to this project. Our people are mobilised and highly motivated," he told journalists.
Key to the schedule is the participation of the Russian space agency (Roscosmos), which stepped in to partner Europe on ExoMars when the Americans abruptly scaled back their involvement because of budgetary problems within the US space agency (Nasa) in 2012.
Sub-surface drill
Russia is providing two of the four instruments for the 2016 orbiter, as well the 1.8-tonne landing mechanism that aims to place the rover gently on Mars in early 2019.
Roscosmos will also pick up the bill for the two Proton rockets that will launch both missions from Earth.
"These contracts make ExoMars more and more of a reality," commented Esa director general Jean-Jacques Dordain.
"I shall not go over the difficulties we had in putting ExoMars together. It took some time and energy from a lot of parties, in particular from industry. It was not easy to move from an Esa/Nasa co-operation to an Esa/Roscosmos co-operation."
Mr Dordain said he intended to sign at the air show on Tuesday what he termed a "matrix of responsibility" with the Roscomos chief, Vladamir Popovkin. This would outline in fine detail just what was expected of Europe and Russia on the two missions, he explained.
ExoMars was formally initiated in Europe by ministers in 2005, and with Monday's contracts Esa has now committed 643m euros on developing the technology.
The 2016 TGO will try to track down the sources of methane that have been observed at Mars.
The gas's presence in the atmosphere is intriguing and could conceivably indicate biological activity on the planet. A major role for the satellite also will be to provide the communications relay for the 2018 rover. This is one aspect the Americans have agreed to continue to supply.
The six-wheeled ExoMars rover will look for signs of past or present life. It will do something no robot has ever done at the planet - that is to drill 2m into the ground.
Mars' harsh environment - it is cold, dry and flooded by high levels of ultraviolet light - means microbes are more likely to survive in the sub-surface, if they exist at all.
Jonathan.Amos-INTERNET@bbc.co.uk and follow me on Twitter: @BBCAmos