Call to 'let UK government scientists off the leash'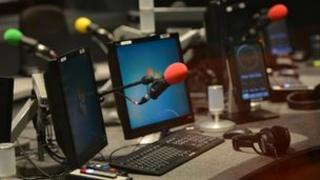 One of the UK's most influential science communicators is pressing the government to let more of its scientists speak to the media.
Fiona Fox, chief executive of the Science Media Centre (SMC), has said that the views of some of the UK's leading experts are not being heard.
She believes that the quality of public debate is suffering as a result, especially during national emergencies.
The government rejects the claim that access to its scientists is difficult.
"Some of the scientists who are advising government are amongst the best in the UK," Ms Fox told BBC News.
"Yet, all too often, their voices are lost to the public and the media."
Ms Fox is arguing for a loosening of restrictions and a change in a culture that she believes can make it difficult to report the views of the country's leading experts.
"Most researchers now see speaking to the public as a crucial part of their role," she said. "Government scientists stand out as a stark exception to that new culture and the SMC feels it is in our remit to raise questions about whether it has to be this way."
The Science Media Centre's stated role is to get science into the public domain through the media when controversial topics hit the headlines.
Often this is through the involvement of "arm's-length" bodies - government organisations with a degree of independence.
But Ms Fox said she had not always been able to have access to the best experts - or if she has, government departments have on occasion interfered.
Ash dieback
Last November, for example, when there was concern over ash dieback, a senior scientist working for Forest Research, a government arm's-length agency, gave a live interview to the BBC News Channel after being involved in an SMC briefing.
Minutes later, the scientist received a message to the effect that the Department for Environment, Food and Rural Affairs (Defra) was not happy that she had given an interview, and asked her not to accept requests for another.
After the BBC News team insisted that it wanted the scientist from Forrest Research, a Defra press officer spoke to her about what she should say.
Badger cull
BBC News experienced difficulties last September when one of the country's leading scientists, Lord Krebs, told BBC News that pilot badger culling trials were, in his words, "a crazy scheme" because there was no reliable estimate of the badger population in the proposed cull areas.
The scientists that could confirm or refute Lord Krebs' concerns were researchers working for the Food and Environment Research Agency (Fera), another arm's-length body associated with Defra.
BBC News called the Defra press office several times over two weeks, each time to be told by the press officer that he was still trying to set something up. In the end, no-one got back to the news team.
A few weeks later, the trials were postponed because of evidence from Fera that the population estimates for the proposed cull areas had been unreliable.
According to James Wilsdon, a professor of science and democracy at Sussex University, it is important for government departments to be more open with the research that leads them towards policy decisions.
"I wouldn't say that this [example is illustrative of] a major shift but more of a clash of cultures, and clearly there is a ministerial line-up at Defra that is a bit less amenable to some aspects of scientific opinion than previous [line-ups]," he told BBC News.
When BBC News put these examples to Defra, a spokesman said: "Our independent scientists have always been made available to the media when possible for background briefings and interviews on a range of subjects, including bovine TB, ash dieback and the decline in bees.
"To suggest that access to our expert scientists is difficult is far from accurate."
Fukushima
During the Fukushima nuclear accident in 2011, there was intense interest and concern about the effects of radiation.
The SMC put up independent experts to do interviews on the subject with the media. But Ms Fox said that several of the experts that were brought in to advise the government told the SMC that they felt unable to do further media interviews.
Some organisations contacted by the SMC claimed this was because of instructions from the government's Cabinet Office, which was overseeing the crisis.
Volcanic ash
Independent scientists joining committees advising government during national emergencies, such as volcanic ash or swine flu, are often required to sign the Official Secrets Act and other non-disclosure agreements.
While these experts are told they can speak to the media if they steer clear of sensitive information, many worry that they might let something slip.
As a result, they often refuse media interviews, according to Ms Fox.
"We had a huge number of scientists on the volcanic ash story about whether we should be grounding aeroplanes. But when they were appointed formally to advise the government, two or three phoned us up to say, 'sorry, no, I won't be able to do any more interviews'."
Downing Street interference
Interference from government and at times from the prime minister's staff stretches back a long way. In 2008, officials working for the then premier Gordon Brown attempted to delay an SMC briefing on a detailed, government-led scientific report on mental health put together by hundreds of independent academics.
"We were told that special advisers at Number 10 thought that a short section about the economic recession and mental health would lead to awkward questions during Prime Minister's Questions," Ms Fox said.
Comparison with Canada
In Canada, several government departments are currently under investigation by the country's information commission for allegedly "muzzling" scientists.
Requests for interviews with scientists working for the Canadian federal government have frequently been turned down as a consequence of a media protocol introduced in 2008.
This directive explicitly states that press officers should ensure that the minister is not embarrassed and that the interview is "along approved lines".
In the UK, there is no such overt directive. But according to Ms Fox, practices in the UK can have similar effects.
"There is no systematic attempt to silence government scientists, but many feel they can't speak to the media - especially in the midst of a crisis or where the science is contested," she said.
Prof Wilsdon has similar concerns: "Some of these examples are a worrying sign that there has been a tightening of restrictions, and constraints on the open and free discussion of the science that I would say should take place in a more public way. So I would be worried."
Follow Pallab on Twitter