Lucky Luca gets his chance to fly in space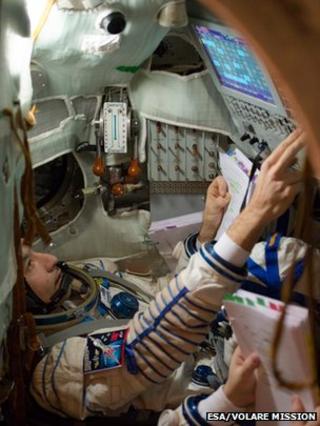 "If it happens, it happens quite soon," says Luca Parmitano. "There may be a motion you do with your head, and before you know it you are barfing in your barf bag. But to be honest, I would be very surprised if it happened to me." Let's hope.
The Sicilian is about to fulfil a dream by flying on a Russian Soyuz vehicle to the International Space Station on Tuesday.
At 36, he will become the youngest person to undertake a long-duration mission to the orbiting outpost. He is also the first of "the Shenanigans" - the European Space Agency's 2009 intake of astronauts - to get an assignment. This is the same group as "Major Tim" Peake, the Briton who was told last week he will go up in 2015.
The Russians invited Luca to try their "puke table", something recommended to all first-time cosmonauts.
It's a bench on which you are alternately tipped head-first and then feet first. You are then moved to a revolving chair and told to close your eyes as they spin you around.
The aim is to test the vestibular system, to get you ready for the weirdness of weightlessness and the way it can confuse an astronaut's sense of balance and orientation in the first hours of flight.
But as a fighter pilot by trade, Luca ought to be well prepared. The barf bag should be redundant; and in any case, he'll have little time to feel sick. He's sitting in the left-hand seat of the Soyuz capsule for the journey up to the ISS.
This is the position that looks after all the on-board systems - its life-support, pressurisation, engines, etc. It carries a lot of responsibility, and even more so given that Tuesday's flight will be only the second accelerated rendezvous with the station.
Traditionally, Soyuz capsules have taken two days to get to the 415km-high platform. In March, mission controllers experimented with a six-hour re-join. It is technically more difficult and requires some very precise orbital adjustments, but it seems to be the way to go for the future.
Luca, his Russian commander Fyodor Yurchikhin and Nasa astronaut Karen Nyberg will have had little time to reflect on their sensations before they are floating through the hatch of the ISS.
"When you have three very highly trained people sitting around for two days waiting to get to the station, it seems a waste - a waste of human resources, of brain power and of work," says Luca. "With this new way to get to the station, you are saving time. And in the future, this means we need less stuff on the capsule just for the flight - less water, less food - and have more room to carry experiments and other payloads."
The Italian has a packed schedule up to his return to Earth in November. He'll see all of the vehicles now used to service the station come and go, perhaps even the new Cygnus freighter which is made in part in Turin.
He's also scheduled to make two spacewalks. "I've dreamt of doing that. Being an astronaut is about walking in space. For me, they are one and the same thing."
There'll also be a lot of science. ISS crews are now completing about 70 hours a week, conducting experiments that exploit the unique microgravity environment on the platform.
And then there is the "million dollar question", as Luca puts it: "Can you do anything better than Chris Hadfield?" The recently returned Canadian astronaut became something of a superstar whilst commanding the station.
His constant tweets, photos and videos from orbit put him in touch with an audience untapped by any previous spaceman in the modern era. Hadfield's cover of David Bowie's A Space Oddity has racked up more than 15 million views on YouTube.
"He's an amazing friend and a role model for many of us. I am just in awe of how much he did," says Luca.
"I taught myself the guitar in the past two years and I would like to play some Italian music that has never been played on the station before.
"My mission is called Volare, which is Italian for 'fly'. It's also the way a lot of people know a very famous Italian song, Nel Blu Dipinto Di Blu from the 1950s. I'd like to play that."
It's a good choice. Its many covers include a version by none other than Bowie himself.
And being Italian you would expect Luca to have given some thought to that other Italian religion - food.
National chefs have prepared a range of dishes for him to share with his crew. When the European space freighter, the ATV, arrives at the station in a few weeks, it will be carrying lasagne, risotto and Italian casserole. "Pesto. Oh how I love pesto sauce!"
There's a lot of attention on Luca because he is the first of Esa's 2009 rookies to get his chance in orbit. Of the six in his class, four have been allocated assignments and the remaining two have been promised they will fly by 2017.
"It's not important that I am first; what's important is that all my classmates fly, that we perform well and that we all make our small contribution to the history of spaceflight.
"We're opening things up for those who come after us, for those who will fly well beyond low-Earth orbit and the space station. We'll be helping just a little bit these future astronauts who may not even be born yet."
You can follow Luca and his Volare mission on Twitter (@astro_luca), through his website and on Facebook.