Snake charmers: Gucci talks python at species meeting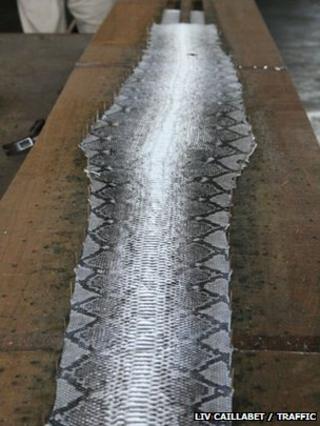 Among the grizzled delegates and hacks at this sweltering Cites conference, the well-heeled representatives of Gucci and other fashion houses cut a dash.
But they weren't here for the catwalk. They were here to talk turkey about pythons.
They've been holding meetings to try to improve the traceability of python skins used in bags and shoes.
They are very concerned that illegally sourced python skins are ending up being sold to customers as high fashion bags and boots.
So they are trying to rapidly put in place a traceability system that would allow the python to be tracked from "marsh to market".
Most species of pythons are a regulated species under Cites Appendix 2. This means that a legal trade needs import and export licences and quotas.
A report from the International Trade Centre estimated that half a million python skins worth around $1bn are exported every year.
But there is a flourishing illegal business in illegal snakes as well.
Belt and traces
And the fashion mavens want to try and do their bit to stem the dodgy trade.
"Traceability is a new challenge. We are absolutely aware it is a complex topic, we would like to invest because we are already investing a lot," Rossella Ravagli from Gucci told a side event here at the Cites conference.
She gave few details but said that a pilot project had started to "create a closed-loop farm system".
"Traceability is a key word - traceability means transparency and transparency means credibility," she added.
Such is the urgency that the fashionistas have injected into this issue that an expert on reptiles has been engaged to rapidly report on ways to ensure that pythons can be traced from Thailand to thigh boot.
Don Ashley told me his report would look at developing an effective python tagging system which was key to a legal and traceable trade. But everyone had to do it.
"If other countries don't require a skin to be tagged, it opens up the opportunity for an illegal skin to come in and be co-mingled with legal skins and be re-exported," he said.
There were huge challenges. But he was confident that with the co-operation of the fashion industry, significant changes could be achieved. He said the alligator could be the role model for the python.
"I saw the same scepticism that if you restored world trade in the alligator, they would be extinct within 10 years. Now we have more alligators than we ever had, and we have an industry in Louisiana worth over $60m dollars a year - most of it going to coastal communities," he said.
If a strong, regulatory framework backed by snake farmers and Parisian boutiques can be put in place, the future for the python business looks remarkably good.
Just as long as the species stays alive.
Follow Matt on Twitter.