Biofuels: MPs to consider subsidies for power stations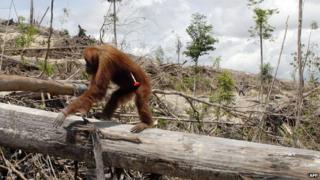 MPs are due to decide on Wednesday whether to accept controversial plans for new subsidies to burn trees and plants in UK power stations.
Ministers are looking to biofuels like palm oil and American wood pellets to help meet the UK's legally binding commitment on renewable energy.
Plants soak up carbon when they grow, so biofuels are intended to cut net carbon emissions.
But many scientists say they harm rainforests and wildlife.
These researchers warn that in some cases biofuels produce more carbon emissions than they save.
The dash to grow biofuels was prompted by the EU decision to obtain 20% of all energy from renewable sources.
The policy was shaped hurriedly, and failed to take into account many factors, especially under-estimating the value of intact rainforests in mitigating climate change.
The biofuel industry responded by guaranteeing that its activities would be "sustainable" - on land already cleared. But they failed to take into account that using land for biofuel palm oil would simply increase global demand for palm oil overall, and that would lead to more rainforest being felled to meet demand elsewhere.
This enrages environmentalists striving to combat the spread of palm oil, which is used in hundreds of foods and consumer products but whose cultivation constitutes a major threat to the survival of species like orangutans.
The UK government's own chief scientific adviser, Professor Sir John Beddington, has said: "The idea that you cut down rainforest to actually grow biofuels seems profoundly stupid."
Since their introduction in Europe, crops grown for biofuel liquids have prompted land grabs in developing countries and pushed up the price of food for the poor. There has been a long tussle within the EU over these indirect consequences.
Preliminary new European research says they must be taken into account, but many governments still cling to biofuels as a way to help them meet renewables targets.
That is why the MPs on the cross-party scrutiny committee will be under pressure on Wednesday to agree the government's proposed new subsidy regime.
Planning permission has already been granted for two UK power stations to burn bioliquids, including palm oil, and the government plans to promise future subsidies, without which the fuels are uneconomic.
A DECC spokesman told BBC News that under EU rules it could not refuse subsidies to palm oil without stopping subsidies to other liquid biofuels deemed to be less harmful. DECC says power plants should not gain more than 4% of their power from palm oil, but campaigners say that will still double the UK's annual imports of the oil.
The European Environment Agency said the carbon emissions from biofuels had not been properly accounted for.
"It is widely assumed that biomass combustion would be inherently 'carbon neutral' because it only releases carbon taken from the atmosphere during plant growth," it states.
"However, this assumption is not correct and results in a form of double-counting, as it ignores the fact that using land to produce plants for energy typically means that this land is not producing plants for other purposes... The potential consequences of this bioenergy accounting error are immense."
A recent Nature paper from the Open University said that emissions from felled swamp forest were even higher than previously thought. Mike Andrews from ACSEB – Action for Sustainable Energy for Bristol (where one palm oil power station is planned) - told BBC News: "The government's biofuels plans have got to be stopped. This policy really is counter-productive. It's madness."
Biofuelwatch says Holland and Germany have withdrawn subsidies from liquid biofuels for power generation.
Meanwhile, the life of old coal-fired power stations is being extended by subsidising them to burn wood pellets. The giant Drax station in Yorkshire, for instance, is turning over half its boilers to pellets.
The firm says the pellets are waste – mainly from US timber production – but Drax alone will burn more wood than the entire output from the UK's timber industry. The Royal Society for the Protection of Birds says the scale is too huge to support.
The MPs considering the UK subsidies are on the Eleventh Delegated Legislation Committee, a non-specialist group which scrutinises details of government rule-making on all topics.